11-Year Old Nigerian Artist Kareem Waris Wins Top Taiwanese Award
Nigerian hyper-realism artist, Kareem Waris Olamilekan, has emerged the recipient of Taiwan's Chou Ta-Kuan Cultural and Educational Foundation's "22nd Fervent Global Love of Lives Award"
An 11-year old Nigerian artist, Kareem Waris Olamilekan, has been named the winner of a top Taiwanese award. More specifically, young Kareem is a hyper-realism fine artist. Kareem emerged the recipient of Taiwan's Chou Ta-Kuan Cultural and Educational Foundation's "22nd Fervent Global Love of Lives Award". According to the organizers of the award, the young artist beat 2,723 other international candidates to clinch the prize.
About The Award That The Nigerian Artist Won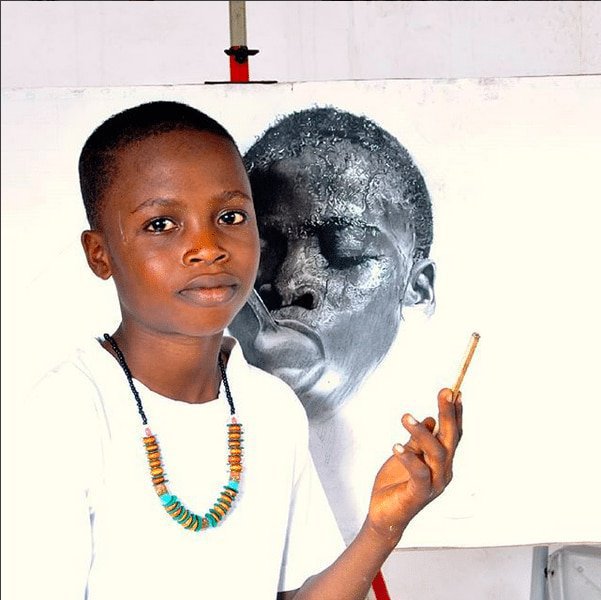 It is the Fervent Global Love of Lives Award.  Taiwan's Chou Ta-Kuan Cultural and Educational Foundation organizes the event. This year is the 22nd edition of the award. The government of Taiwan put it together to recognize an international artist as part of its celebration of the 22nd Fervent Global Love of Lives Award. Taiwan Ambassador in Nigeria Vincent Yang broke the news to the public.
He said that Waris Kareem won the award defeating 2,723 other candidates across the world. The ambassador also disclosed that Waris Kareem would meet the Taiwanese President Tsai Ing-wen. According to him, Kareem will attend charity events with other laureates. This is scheduled from  20th to 28th September in Taipei, during which he will meet the Taiwanese President. Despite his young age, Waris Kareem has gained global recognition for his incredible drawings. Yang said that his office and the Head of Taipei Trade Office in Nigeria had hosted and congratulated Kareem.
Nigerian Artist Kareem Is No Stranger To Meeting Presidents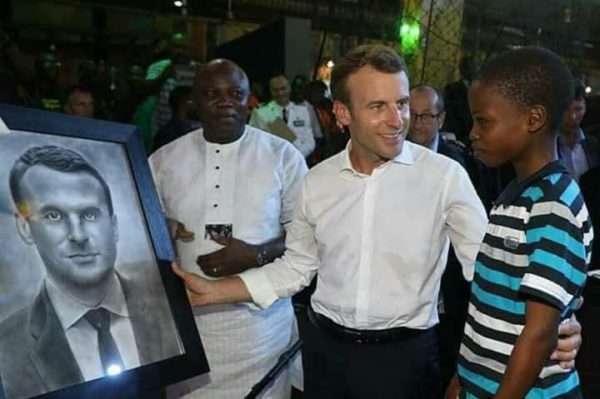 Waris Kareem is not new to the big stage or meeting famous presidents. He gained global fame in 2018 after he sketched a stunning portrait of French President, Emmanuel Macron. Amazingly, the young Nigerian Artist did it on the spot in just two hours. He completed the sketch of the President during the President's visit to Lagos. A feat which put him on the global media. The work delighted not just the President but the world in general.
Congratulations to the young Nigerian artist. Thank you for making Africa proud!
Having Genius Kids? Here Are Some Tips On How to Raise Them
If you are wondering how to raise a genius, all you need is love, time and devotion to your child. Many parents think they need to be smart, but that isn't necessary. Your child just needs your attention. During the first decade of your child's life, he will learn a lot of things because his brain forms trillions of connections. Here are some ways that you can try to boost your child's intelligence as early as possible:
Talk with Techniques
Ask your child open questions instead of yes-no questions. This can help children think about what they know. Feedback and let your child know that you value their opinion. Also, when talking to your child, try not to use "baby talk" but words you are comfortable with.
 Read to Your Child
Reading to your child helps their brain make connections with the surroundings and gives them lots of information about the world and life. It is a known fact that reading to your child early on can make them smarter and learning easier.
 Encourage Curiosity
You may have noticed when your child was toddler or preschool age, they wanted to know about everything around them. Once they reach school age, that curiosity tends to decline. Do things with your child to re-spark this curiosity but in older kid style.
Seize Every Opportunity to Teach
While you come back from work, talk to your child about what you did. Also, you can take them shopping and show them how to compare prices. You can even give your 3 to 4 year old the job of picking out apples or oranges.