5 Quick Snacks Recipes Your Kids Will Love And Keep Coming Back For More
Here are 5 quick snacks recipes to make for your kids either as desserts or simple treats. The recipes have been there for ages, tested and trusted.
According to standard nutritional recommendations, your kids should have three meals and two or three snacks every day. While you're at it, a lot of variety will keep them interested and make it fun. Especially if your children are picky eaters. Here are 5 quick snacks recipes that your kids will absolutely love. Easy to make and inexpensive, you'll have them coming for more!
See The 5 Quick Snacks Recipes Below:
Nigerian Coconut Candy
 250 gram Coconut meat/flesh or 1 medium coconut
 300 gram White Granulated/castor sugar
A Spatula for mixing
Preparation
Grate the coconut and set aside.
Pour the sugar into a dry pot and spread it out. Heat up on medium heat and watch it closely.
As the sugar starts to caramelize (change to golden brown like honey), turn down the heat to low and pour in the grated coconut; mix thoroughly until well incorporated.
Put off the heat and transfer into a bowl; leave to cool a bit and mold into your shape of choice.
Sugar-coated Groundnuts
 2 Cups Peanuts/Groundnuts(Roasted with coat removed but red/brown skin on)
1 cup granulated sugar(white or brown)
34 cup water
12 teaspoonful Pink/Red food coloring(optional)
 Preparation 
In a pot, Pour in the sugar , water , peanuts and the coloring.
Mix all with a wooden spoon and be sure the nuts are well coated with the sugar mix  and  set to boil on medium heat.Stirring constantly
When the sugar and water mix begins to dry up reduce the heat and keep on stirring.
When the sugar mixture begin to feel grainy  or look like wet sand on the wooden spoon,
Put off the heat, mix thoroughly and pour out QUICKLY on a baking tray before the mixture turns to caramel and begins to burn. Then spread it out on the tray.
The nuts will harden a little more as it cools.
Donkwa/Tanfiri
250 grams corn meal(made from roasted corn)
70 grams  ground Peanut/groundnut OR groundnut powder
2 pinches of ground chili powder ( optional, but add it if you want to get the classic donkwa taste)
1 tablespoonful sugar
1 pinch of ground clove(optional)
2 tablespoons of peanut oil(sunflower or canola oil is also okay)
2  tablespoons of water
Directions
Pour the corn meal, groundnuts, sugar,ground chili powder(optional) and ground clove(optional) into a blender and grind until all the ingredients are well combined to form a smooth fine powder.
Transfer the fine powder into a large bowl. Then Scoop out some of the powder into a smaller bowl, gradually add drops of water and oil, mix well and mold into balls.
Don't add too much oil or water,so that it doesn't look soaked or sodden.

Note: if you like Yoruba-style tanfiri, you can leave out the water and only add oil
Kokoro
1 cup corn meal( the coarse type)
2 tablespoonful of sugar
A pinch of grated Ginger(optional)
Chili Pepper (optional)
A pinch of Salt
Oil
Directions
In a small bowl, add half cup of the cornmeal, sugar, pepper, salt and grated ginger. Mix thoroughly and set aside.
Pour half cup of water into a pot, leave to boil and then add the mixed corn meal. Stir continuously until you get a stretchy mix that looks just like Eba. Place the cornmeal in a big bowl, cover and leave to cool completely
When it is cooled, add the remaining cornmeal and knead until smooth.
Take a little portion and roll in between your palm, you can also roll it on a flat table to get a longer shape.Repeat this process for the remaining dough.
Now heat up some vegetable oil until hot and fry the rods shaped dough until it hardens.
Remove the Kokoro and place on sieve lines with paper towels, to remove excess oil. Leave to cool and serve!
Banana Puff-puff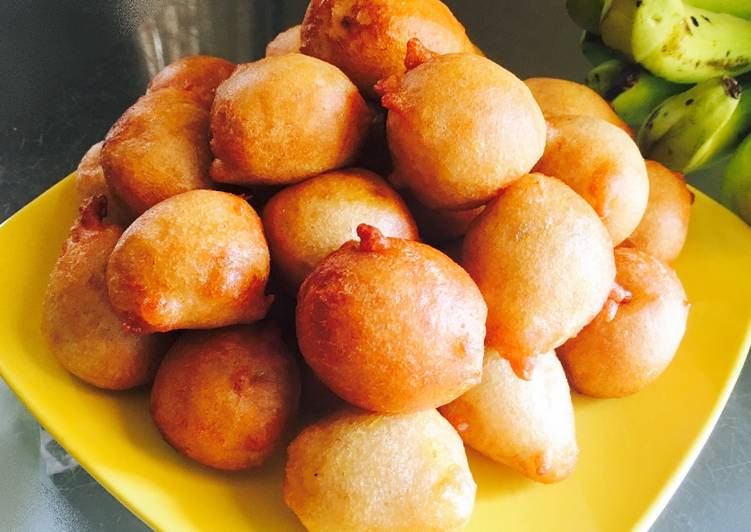 2 over ripe Bananas
75g Sugar (caster/castor sugar)
1 tablespoonful Dry baking yeast
 A pinch of Nutmeg (optional) 

Pinch of Salt
Vegetable Oil (for frying)
About 1& half cups OR 200ml of lukewarm water
Directions
Mash the bananas into a paste.
Add the sugar, salt and nutmeg to the banana and mix thoroughly.
Add the flour and the yeast, and mix together.
Gradually, add the lukewarm water and mix thoroughly until there are no lumps, and the batter is smooth and of dropping consistency, but make sure it is not watery.
Cover the bowl with an aluminum foil and leave the batter to rise for about 45 to 50 minutes. 
Heat up the oil in a deep pot until hot; punch down the batter, scoop onto your palm and drop into the hot oil.
Fry until brown. Then transfer onto a sieve lined with serviettes and Enjoy!