This Cameroonian Man Is The First African To Survive The Corona virus In China
He was the first African to contract the disease in china and the first African to recover!
Kem Senou Pavel Daryl, a young Cameroonian student living in the Chinese city of Jingzhou, has been cleared and pronounced free of the deadly coronavirus, COVID-19. According to the BBC, he became the first African coronavirus survivor in China after making a recovery in a local Chinese hospital.
Kem Senou Pavel Daryl: the first African coronavirus survivor in China
Senou remained in isolation in a local Chinese hospital where he was treated with antibiotics and drugs used to treat HIV patients for thirteen days, after which he began to show signs of recovery. When the CT scan showed no trace of the illness, he became the first African person known to be infected with the deadly coronavirus and the first to recover.
However, during the illness, Senou was intent on not going back home to Cameroon. This is because he did not want to take the sickness back to Africa. The Chinese government shouldered all his healthcare expenses.
Senou reportedly contracted the virus after his visit to Wuhan city where the outbreak started since December last year. After his recovery, he insisted that he didn't want to return home before finishing his studies.
Has Nigeria responded to citizens in China?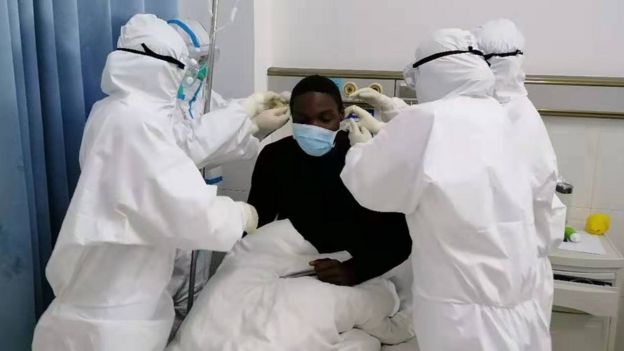 Nigerians make up a large percentage of Africans in China. However, so far it appears that the country has no plans of evacuating its citizens.
"People are saying: 'Don't bring us back because Nigeria can't handle us'. I feel conflicted but at the end of the day I am also human," says Angela, a Nigerian, who only gave the BBC her first name.
"I would appreciate if they would recognise that there are Nigerians here but we don't seem to be a priority. We didn't get any response from our government," she says.
Many Nigerians in China currently live like Angela, who was forced to come out of her apartment for the first time in 22 days due to shortage of supplies. Some other African countries such as Ghana and Ivory Coast reportedly sent financial support to their citizens. However, many of them would prefer to be brought home.
"Staying here doesn't guarantee our safety. We are just in a country that has better medical facilities," says Ms Salima.
Meanwhile, according to Aljazeera, Egypt became the first country on the African continent to confirm a case of coronavirus. A statement from the Egyptian health ministry confirmed that the carrier is a foreigner and had been put in isolation.
Also read: How You Can Protect Your Family From The Wuhan Virus
Any views or opinions expressed in this article are personal and belong solely to the author; and do not represent those of theAsianparent or its clients.