19 Pregnant Women And 4 Babies Rescued From A Baby Factory In Lagos
The victims of the baby factory are mostly women who were persuaded to migrate to the town in search of jobs and better opportunities.
Police in Nigeria's biggest city, Lagos, have freed 19 pregnant women and girls from a baby factory. The girls and women had come from all over Nigeria with promises of work. Lagos police revealed this on Monday. The police also found and rescued four babies at the factory.
The kidnappers abducted and forcibly impregnated most of the women, aged between 15 and 28. This was so that they would sell their babies once they gave birth. They promised the girls employment in Lagos as domestic staff. Instead, they held them in the properties and forced them into sex slavery. They also forced them to bear children, which they in turn sold.
 The Baby Factory Victims Came To Lagos In Search Of Greener Pastures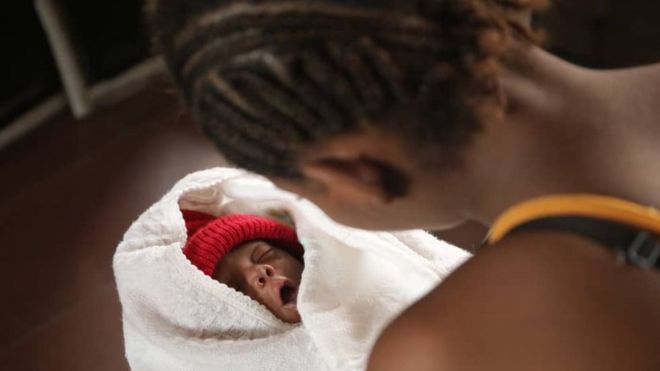 "My friend... called me to say that someone was looking for house help. I borrowed money to come to Lagos," one of the rescued women said, according to Vanguard.
"One woman came to pick me at the park and brought me here. The next day, I was summoned by our madam, who told me that I would not leave the premises until next year.
"Being a newcomer, my customers only came at night to have sex with me.
"So far, I have slept with seven different men before I discovered I was pregnant. I was told that after delivery, I would be paid handsomely and that if I decided to leave after then, I could. My pregnancy is in its second trimester."
"Baby factories" are most common in the eastern part of Nigeria.
"The young women were mostly abducted by the suspects to get them pregnant and sell the babies to potential buyers. The girls were tricked with employment as domestic staff in Lagos," said Lagos police spokesperson Bala Elkana.
"The kidnappers sold boys for 500,000 naira and girls for 300,000 naira."
The girls and women came to Lagos from the southern and eastern states of Rivers, Cross River, Akwa Ibom, Anambra, Abia, and Imo.
Elkana said the raid had taken place on September 19 but was a secret to enable the police to apprehend suspects.
The main suspect is still at large