Shopping Guidelines During COVID-19 Lockdown As FG Sets Fixed Time Frame For Shoppers
Markets in Lagos, Ogun and Abuja will now open somewhere in the range of 10 am and 2 pm daily.
The Federal Government yesterday allowed food markets in Lagos, Ogun and Abuja would to open daily for four hours; from 10:00 a.m. to 2:00 p.m. To allow Nigerians do their shopping for essential items. This came in the guidelines of the COVID-19 lockdown policy, which President Muhammadu Buhari approved to stop the spread of coronavirus in the country.
The Presidential Task Force on COVID-19 released the document in Abuja on Wednesday, and it is one of the ways to enforce social distancing and limit the coronavirus from spreading all over. The Government decided that schools, organisations and businesses in FCT, Lagos and Ogun states will close effective from 30 March for an initial period of two weeks.
Guidelines To Ensure Safety In The Markets During The  COVID-19 Lockdown
The National Co-ordinator of the Presidential Task Force on (coronavirus) COVID-19, Aliyu Sani, shared the guidelines on Wednesday, April 1st, during a briefing by members of the task force.
He said, "For markets, only shops and stalls selling food and groceries shall be allowed to open to customers between the hours of 10:00 am and 2:00 pm."
Aliyu also said that supermarkets and food stores would be allowed to open between 10:00 am and 4:00; adding that business owners and managers were advised to screen staff and customers before entry.
He said, "On arrival, all staff must be screened for a high temperature and all those found to have a high body temperature above 38, will be denied entry and advised to seek immediate medical attention.
"All deliveries for supplies and products for these supermarkets must be made between the hours of 5:00 am and 9:00 am."
He further warned shop owners that the total number of customers inside their stores must not exceed a third of the store's' total capacity. Sani also urged them to make sure that all shelves, aisles and stores are cleaned and disinfected before they close for the day.
Safety Tips For Shopping During The FG Covid-19 Lockdown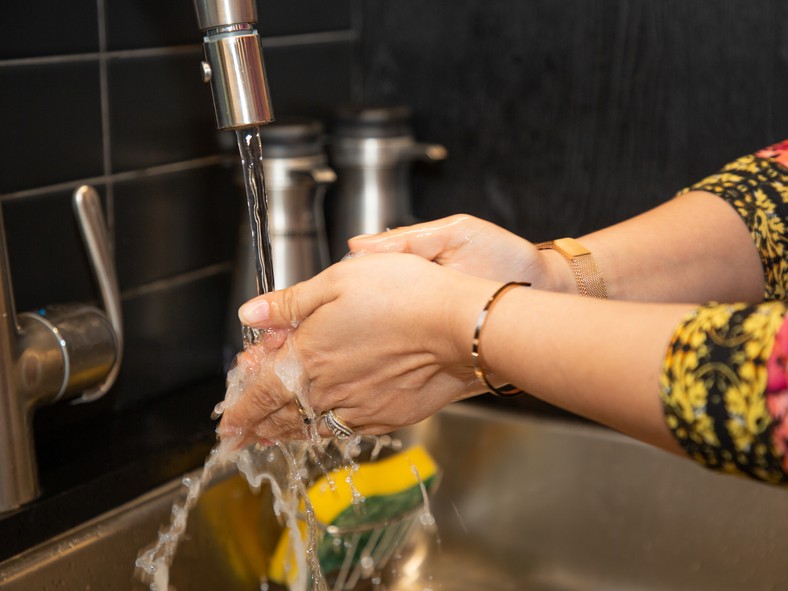 If you must do some shopping during the Covid-19 lockdown, here are some tips on how to practise physical distancing while purchasing essential food and medical supplies.
Sanitize your hands and your shopping cart or basket before you enter the shops or market. And try not to touch your face the whole time you're there.
Grab a clean cart or wipe down one yourself. While you're shopping, keep to the 6-feet social distancing rule. The virus spreads from person to person, so that distance protects you from infection.
Keep clear of people on the way to and from the shops, and when inside them as well, if possible. Be patient and take your turn to access goods in fridges and freezers. Some supermarkets are helping to do this by limiting the number of people inside a shop at any given time.
When purchasing your shopping, try to keep your distance from shop workers as well.
If the shops are full, you could come back another time. Being in crowded places defeats the purpose of social distancing.
Try not to take out your phone in the store while shopping. If you can, order ahead and have them delivered.
Shop alone, and not in groups. It's still COVID-19 lockdown season and all the rules still apply.
Finally, if you're sick, stay at home!
When you arrive at home, be sure to wipe down all the items with a sanitizer; and wash your hands thoroughly with soap. If possible, take a full bath and wash your clothes separately from the other regular laundry in the house.
Also read: COVID-19 Update: Here's A List Of Things To Buy When You're Grocery Shopping For A Quarantine