Some Of Di Health Effects Of Harmattan Season For Our African Bodi Dem
Petroleum jelly, shea butter, coconut oil, and lip balm are the essential starter pack for the season.
Harmattan na dat time of di year wey be say evribodi dey rub Vaseline for bodi plus mouth join. Dat time wey dust dey full evriwhere and weather go dry like biscuit. Harmattan na di season for Africa around di end of di year go reach beginning of new year, before rain begin dey fall again. Dat na from end of November to middle of March. Wetin we wan tok today na di effects of harmattan season for dis our health so.
Di dry weather dey pass come from desert. Na there e go cari di dust dey come, naim make evriwia dey dry and dusty. Harmattan na West African trade wind. E go come from South enter Gulf of Guinea. Na from dia e go spread go evriwia. So wetin dis dry dusty weda dey do for us? Wetin be di effects of harmattan season? Di effects dem plenty and you no go like dem.
Wetin Be Di Effects Of Harmattan Season?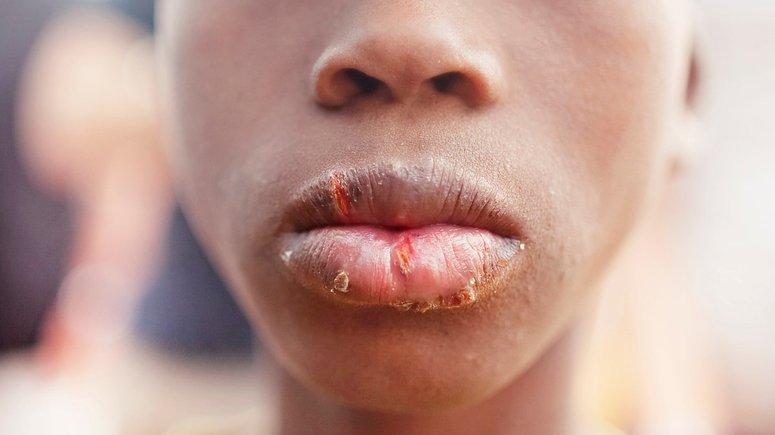 For harmattan season, weather go cold for morning. Den e go com hot and dry for afternoon. When e reach evening, e go cold again. Some things wey harmattan dey cause na:
Fire na one of di effects of harmattan season
Fire na one of di effects wey we dey tok for harmattan season. And na becos of di dryness and di wind. For di time wey harmattan dey outside, plenty fire dey dey. And di dry wind dey make di fire quick spread so e no dey easy to off am. Small fire go turn big fire for harmattan.
To see road go hard small
Di harmattan dey cari plenty dust dey waka. And e dey make person no see road well well. So if you dey drive motor, you go need to dey very kiaful, especially for morning time. Even pilot wey dey drive plane, na dem get risk pass. Dem go need dey veri kiaful.
Allergies na one of di effects of harmattan season
Cold go dey and dust go dey well well for harmattan. So, pipo wey get asthma and oda allergy wey get to do with breathing  need to dey veri kiaful. Becos dis na di period wen dem go dey inhale different kain of dust. Na di period wey dem dey get more asthma attack. Some pipo go even get disease like pneumonia and bronchitis. And e go worry pipo wey e old well well and pipo wey young well well. If you know say you dey allergic to cold go find thick cloth wey go cover your bodi make you dey wear am.
Your skin
Your skin for dis season go dry; den your lip fit dey crack and the under of your leg join. Dat na why e good make you dey rub oily cream for dis season. Cream wey get shea butter, petroleum jelly and coconut oil go helep ya skin no be small. Remember say if you wear cloth wey dey cover and wey dey silky, e go helep you no be small.
Your eyes
Na your eye dey expose to di weather pass. So all dat dust wey di harmattan cari come, na your eye e go first enter. So di eye go dey scratch you. E fit red, make water dey comot for inside. You go need to dey wash ya eye with clean water. And reduce di way wey you dey expose di eyes to dust. If you dey comot you fit wear glasses, to cover di eyes.
Sickle cell anaemia
Harmattan dey trigger sickle cell crises well well. Sickle cell na genetic sickness for wia person red blood cell go dey sick becos of low oxygen tension. E dey cause make di person blood vessels block. And e dey pain for bone no be small. Pipo wey get dis sidease go need to dey veri kiaful for harmattan season as di crises na one of di effects of harmattan season. Dey need to dey warm make dem no get crisis.
Disease wey dey for inside food.
Becos di dust plenty no be small, you go need keep your food well well. Keep am for clean, healthy place. If you dey sell food or fruits for outside, you need to keep am well becos of di plenty dust wey dey evriwia. Wash your fruits and vegetables before you chop am. And make you cover your drinking water container dem well well. Di disease wey dem dey call meningococcal meningitis dey plenty around February to May and na harmattan dey cause am.
Dehydration na one of di effects of harmattan season
You go need to drink water well well becos of di dry season, e mean say water dey comot for ya bodi through respiration, and sweat and when you dey piss. So drink plenty water make you no go dey dehydrated.
Some oda health effects dey show for our bodi through some disease dem. Dem be:
dry skin
cold
cough
catarrh
asthma
bronchitis
pneumonia
How To Take Survive Harmattan For Nigeria
1. Drink water well well
2. Wear cloth wey go cover you
3. Take vitamin C
4. Moisturise your skin all di time
5. Dey kiaful wit fire
6. Try make you no go where di dust plenty
7. Do hair style wey go protect your natural hair
8. Try make you no enter plane
Read dis tori join: 66 Urhobo names and their meanings