First Year Of Fatherhood: Davido Looks Exhausted Taking Care Of His Son
This is your first year of fatherhood; the first of many, and you won't always be a first-time dad. You have to make most of it.
Just days ago, news broke that Chioma, chef and fiancee to music star Davido tested positive for the coronavirus.  Even though she was asymptomatic and is reportedly doing okay, the mom of one has had to isolate herself to protect her loved ones. This has left the Assurance crooner with the task of caring for their first child; something he clearly struggles with, because as we all know, PARENTING IS HARD. While Davido is not a first-time dad, this seems to be his first time as a hands-on dad, and he's not slacking at all! That's why we've come up with a list of things dads should know about the first year of fatherhood.
We think this might serve as an inspiration to young fathers, and maybe convince more African dads to embrace equal parenting. Davido shared a really cool photo of his stressed self carrying the little man with the hashtag #waitingformommytocomeback. Clearly, the boys miss mama.
Learning from older dads, we've curated the most helpful tips for first-time dads; everything there is to know about the first year of fatherhood. Have a look!
Here's Everything You Want To Know About Your First Year Of Fatherhood
The first month is the hardest
Of course, it is! You're new to everything. No matter how many books you've read, nothing prepares you for the long nights and the stress. So, cherish those first few days in the hospital, because nurses are the best people in the world; and every teaching moment is necessary. Especially because when you get home, it's just you, your wife, and the baby that you have to keep alive. But it gets easier as the baby grows, and you get more familiar with the job.
Make the time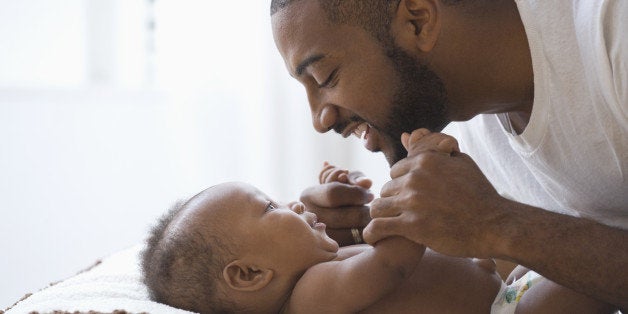 If possible, take more than just a few days off when your baby arrives. Take as much time as possible. If your employer has a paternity leave policy, take the time. If your employer doesn't have a paternity leave policy, make the time. Push the envelope—it's worth it. You're only a new dad once. Invest time in bonding with the baby and establishing a co-parenting dynamic that lays the groundwork for child-rearing equality.
Be a compassionate husband
Your marriage has one partner who needs her spouse to be particularly helpful and supportive right now. Your wife is sore, probably feeling less-than-attractive, and potentially experiencing some level of postpartum doldrums. And since you can't breastfeed, she's taking the lion's share of the overnight shift. So add exhausted to the list, too.
Your job, then, should be basically "everything else." Unless Grandma is there to lighten the burden. All woke-ness aside, early parenting roles revert to tradition out of necessity; she has to care for the baby right now, and you have to care for her. Do your duty—and the dishes—with honour and gratitude.
Get support and ask for help
Your daily routine will change dramatically once the little one arrives. Suddenly, individual and couple time, as well as sleep, will be your most precious resources. Don't waste them on things you might as well outsource. It is 2020, there's a lot you can outsource: cooking, housekeeping, babysitting. Besides professional help and services, there is, of course, your family. If your family is around, then you're lucky.
This is only temporary.
Newborns go through phases and stages with head-spinning speed. As soon as you recognize one pattern, it often gets replaced or redirected by another. Sleeping habits, feeding tendencies, what does and doesn't soothe the baby when they cry all evolve remarkably rapidly.
So if you find yourself in a particularly rough phase, relax. It will pass. And if you find yourself recognizing stages only in their twilight—before they disappear—don't kick yourself. That happens to everyone—moms and dads alike, and especially with firstborns.
Be intentional about having fun
This is your first year of fatherhood; the first of many, and you won't always be a first-time dad. So enjoy it, have fun. Don't lose yourself in the process. Also, make time for the things you love. Squeeze in the occasional date night, and spoil your spouse when you can.
Also read: The Kobe Bryant Legacy: An Inspiration To Fathers Everywhere
Any views or opinions expressed in this article are personal and belong solely to the author; and do not represent those of theAsianparent or its clients.