Here's A List Of Supermarkets Offering Grocery Delivery Services In Lagos During The Lockdown
Shopping online is not entirely a new trend, but its adoption has spiralled with the increased need for eCommerce. Besides reducing the time and stress involved in visiting a mall or an open market for groceries and foodstuff, online ordering has become apparently necessary since some major cities in Nigeria are currently on lockdown and movements are restricted. So it's given that we all could do with a service like grocery delivery during lockdown.
While some platforms have always rendered this service, other physical stores have also adapted their models to provide grocery deliveries. Orders are placed via channels such as WhatsApp, websites, and mobile applications, and services provided cover a range of edibles and other home essentials. Here is a non-definitive list, in no particular order; of online stores and supermarkets who are in the business of delivering groceries in Lagos.
Supermarkets Making Grocery Delivery During Lockdown
Ebeano Supermarket
Locations: Ikeja, Chevron, Lekki, Oniru.
Ebeano is offering a full-scale delivery service via WhatsApp for fresh foods from their village market, dry groceries, and home supplies. Their Instagram page provides contact numbers for all their stores. A staff member will chat with you and also send you pictures or video call you to confirm items and brands.
9-7 Supermarket
Locations: Victoria Island, Ikoyi, Lekki. 
9 - 7 Supermarket is offering free delivery to the above locations for orders above N10,000. To place your order, you can contact them via WhatsApp (details on their Instagram page). They have dry goods, butchers, dairy (milk + cheese), bread, wines and spirit, and lots of imported groceries. They've also extended the opening times in response to our new reality so they are now open from 7 am to 10 pm and no longer 9 am - 7 pm.
Hartleys
Locations: Ikoyi, Victoria Island, Oniru and Lekki Phase One.
With a minimum order of N5000, Hartley's will deliver your order to your doorstep. Contactless payments only. You can send in your shopping list via WhatsApp or email (details on their Instagram page). They offer the usual groceries, dry foods like rice, pasta, as well as fresh ingredients like eggs, fruits, dairy, and so on.
Daytona
Locations: Lekki Phase One
Daytona sells mostly dry food, so Indomie, pasta, rice, powdered milk. Sometimes they have some hard to find (read: rarely imported) items too. Daytona is also a major a distributor for beverages in Lekki so if you're looking for your favourite mixers (including tonic water) and water, Daytona definitely has it. There is a pharmacy and pharmacist on-site if you need any OTC medicines, and are concerned about going into a hospital for non-emergency care during this time. Contact them via Whatsapp.
Grocery Delivery During Lockdown: The List Continues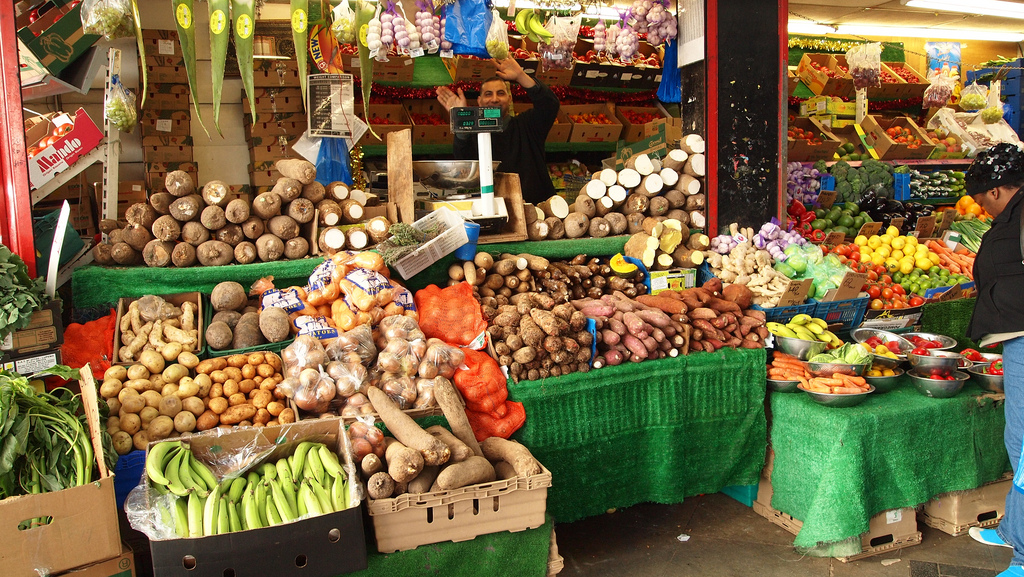 Hubmart
Locations: Victoria Island, Lekki, Omole, Ikeja
All Hubmart's four stores in Lagos are now offering delivery services. With Hubmart, you place your order via phone call, however, I can imagine they will still require you to send it via written format. According to their Instagram page, same-day delivery will be honoured for all orders placed before 3.30 pm. You can expect to order dry groceries, deli meats, frozen and fresh meats and poultry, dairy, and alcohol from Hubmart.
Spar
They promise same-day delivery where it is possible. Before you order via their website, check to be sure they deliver to your location.
Simply Green
Locations: Magodo, Ikeja, Maryland, Alausa, Gbagada, Surulere, Yaba, Apapa, Lagos Island, Victoria Island, Ikoyi, Lekki, Agungi, VGC, Ajah, Sangotedo.
You can view their inventory and order via their website.
Amazon Farms
Locations: Ikeja, Magodo, Ogba, Ogudu, Gbagada, Somolu, Yaba, Ajan, Oshodi, Sürüler, Lagos Island, Victoria Island, Ikoyi, Lekki Phase One, VGC.
On social media, you'll find several positive reviews, especially on Twitter. Their entire product stock list and prices are on their Instagram highlights and if the rumours are true, the deliveries are prompt.
More Online Supermarts
Reds & Greens
Locations: Contact them
Reds & Greens is your butcher shop delivery. They stock meat, poultry, seafood, vegetables and more. Their meats are cleaned and packaged and they also send marinades so it's really a one-stop-shop. Their order flow process can be seen on their Instagram page.
Mile 12 Online Shopping
This platform lets customers request for foodstuff, especially fresh produce, for same-day delivery. You can find and order all supplies from the website in measured quantity, not necessarily bulk, depending on your capacity. Check them out on their website and on Whatsapp.
Jumia
Nigeria's largest online retailer, Jumia provides a wide range of services but currently prioritises groceries and essential household items. Normally, once they place an order on the platforms, customers can pick it up at nearby warehouses; but for now, doorstep delivery is of priority.
Also read: Shopping Guidelines During COVID-19 Lockdown As FG Sets Fixed Time Frame For Shoppers
Any views or opinions expressed in this article are personal and belong solely to the author; and do not represent those of theAsianparent or its clients.