How To Be A Good Mother To A Son: Iyabo Ojo Shares Lovely Photos With Son On Instagram
A mother can certainly help her son become a good man, and it begins when he's still a boy.
Nollywood actress, Iyabo Ojo, is definitely a fan of living the good life.  The pretty single mother of two loves to look good and also show off her beautiful kids. The actress recently shared lovely photos of herself with her handsome and grown-up son, Festus. By sharing those photos, she inspired this article about how to be a good mother to a son. Ojo redefined the term single motherhood on Mother's Day in 2019, when she tearfully shared her motherhood experience on Instagram.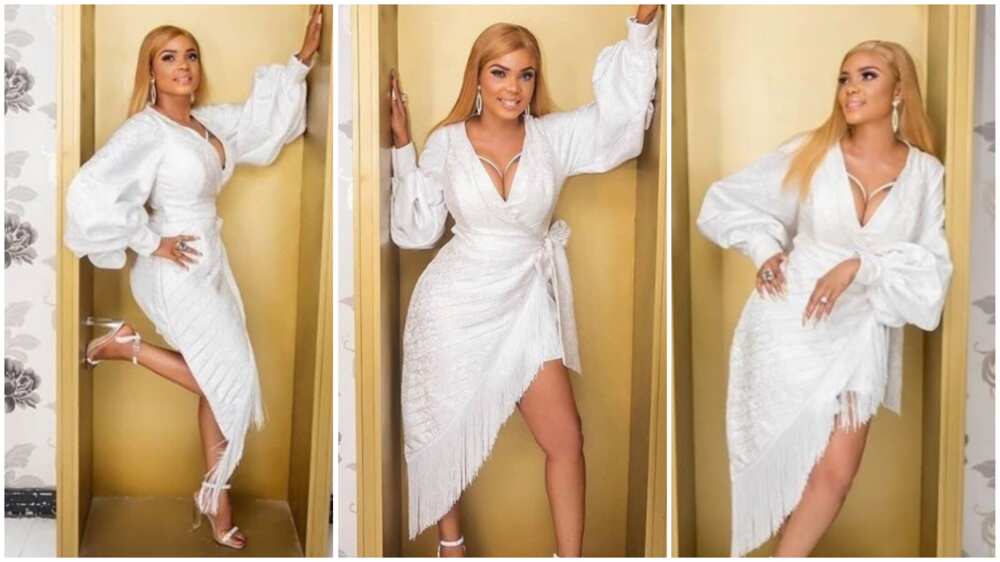 When life serves you lemons, you try to make lemonade. That seems to be the case of a number of single mothers in Nigeria; left to raise their kids alone without the fathers' input. Many of these women have done an amazing job of raising their children, as has Iyabo Ojo. The 42-year-old actress left many mothers in tears, after she narrated her ordeal on Instagram. It's no wonder she shares such a special bond with her son, Festus, as the caption tells us. She also shows how to be a good mother to a son.
How To Be A Good Mother To A Son: Check Out Iyabo Ojo's Photos With Festus
Nollywood actress, Iyabo Ojo, is one celebrity in the movie industry who is known to show great love and care for her two kids, Festus and Priscilla. The actress had her two kids from a marriage that later ended; but despite a rough start, she is able to properly take care of their needs. Just recently, Ojo shared some photos of herself with her handsome son on her Instagram page, to the joy of fans. In the photos, the movie star donned a white shirt dress paired with biker shorts; while her son rocked a white T-shirt with black jeans. Mother and son were making goofy faces as they posed for the camera. See the photos below:
How To Be A Good Mum To Sons, Even When It Is Hard
In celebration of Mothers' day 2019, actress and producer, Iyabo Ojo recounted her marital experience; and how she had to quit her marriage over lack of love from her partner. The actress put up a video where she recounted a bit of her story; how she found out that her husband married her not because of love, but because she was pregnant. She went on to reveal how her husband was 'not available even while they were still together'.
Iyabo Ojo left many of her colleagues and thousands of fans crying as she celebrated the 2019 Mother's Day in tears. The video depicted Ojo in a never seen before mood as she sheds tears of joy on her achievement with her children in the last 19 years.
Ojo couldn't fight back her tears as she narrated how she became born again so as to avoid quitting her fresh marriage. "...I gave my life to Christ again and I held on because I just couldn't get out of the marriage I just got into. I gave birth to my son in a Redeemed Christian Church of God in Itire, Lagos..." the actress and producer said. Ojo had her first child and son, Festus Oladunjoye Ojo in church 18 years ago.
The award-winning actress went on to have another child with her ex-husband. She also explained that she doesn't place any blame on her ex-husband for putting her through the emotional torture. "I don't blame him because we are two different people from apart because we came from different parts, different families, and our thinking, our beliefs were so different…" she said. She however vowed to raise her children and give them the best on her own, and she has done just that, "with God's help,".
Here's How To Be A Great Mom To Your Son
Help Him Manage His Emotions
Get him talking. If your son is grumpy after school, don't swoop in with questions. You can say something like, 'Looks like you're upset. I'm here to help if I can.' Help him express his feelings, and then find solutions to his challenges. He should know that even though they linger, these feelings will eventually go away.
Teach Empathy
When boys are able to understand how someone else feels, it makes them better friends now and better husbands and dads in the future. Play "what-if." Encourage your son to put himself in others' shoes by using examples from something he enjoys, like sports.
Strengthen His Sense of Self
Skip the false praise. Saying You're the smartest kid in the world or You're the best basketball player ever sets expectations your son can't live up to. "Praise his efforts rather than his talents. Never say Boys will be boys or use other expressions that blame your son's behavior on his gender.
Instill Respect for Others
Set rules and enforce them. If your son breaks a rule—whether it's using bad language, missing curfew, or some other infraction—impose consequences. Set a good example. Treat other adults in your son's life, such as teachers, coaches, and his friends' parents, with respect. Insist that he do the same.
Show Him Affection
Time it right. If your son resists, choose your moments carefully. He'll likely be embarrassed if you try to kiss him in front of his pals, but a quick peck as he heads to bed or a brief hug if he's feeling down lets him know you care without crowding him.
Also read: Video: Corps Member Honours Mother With Parade In Gratitude For Putting Him Through School