Here's How To Cook Stew With Goat Meat Naija Style
Rice and fried plantains are another good side dish option for this African goat meat stew.
In just about every Nigerian household, tomato stew is a regular fixture. We use it to make the famous Nigerian Jollof; we also use it as a base for other soups like plain okro or ewedu. Nigerian tomato stew, fondly called stew, is used to eat white rice, boiled yam, beans, bread, and just about everything else! That's why we think everyone should know how to cook stew.
We simply cannot do without our stew. In fact, we could argue that it's a unifying factor in our country's diversity. Because no matter what part of the country you're from, you eat stew, don't you? Also, you'll find the ingredients for stew everywhere in Africa; ingredients that never go out of season too. What's not to love?
Cooking the perfect tomato stew is not a walk in the park. Boil the tomatoes and pepper mixture for too long, and it will burn. But boil it too short and your stew ends up tasting sour and raw. Do you know how to cook stew? Not to worry, we'll teach you.
Find the complete recipe below.
How To Cook Stew With Goat Meat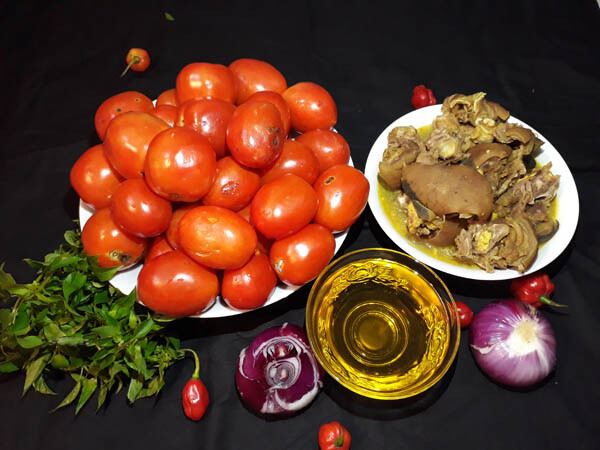 Before we begin, it's usually wise to prepare your stew in large quantity and store in your freezer for up to a month. Remember, it's a base for almost every Nigerian staple meal so your family will be eating it a lot. And it will save you time if you already have it prepared; all you have to do is microwave a portion per time.
Ingredients
1.5kg fresh Plum Tomatoes (popularly called Jos tomatoes in Nigeria)
600g tinned tomato paste (or watery tinned Tomato Puree: 1.2kg)
Vegetable Oil: a generous amount
2kg goat meat
2-3 medium onions
Habanero Pepper & Salt (to taste)
3 big stock cubes
2 tablespoons thyme
Before you cook your stew
Wash and blend the fresh plum tomatoes. Remember to remove the seeds unless you are sure your blender can grind them very well.
If using the thick tinned tomato paste that is common in Nigeria, mix it with cold water to get a softer consistency.
Cut the onions into small pieces.
Cut up the goat meat and cook with half of the chopped onions, stock cubes and thyme. Then add salt, allow to simmer for about 5 minutes, transfer to a sieve to drain. Grill or fry the goat meat. This is optional but it gives it a rich golden look.
Notes about cooking the goat meat: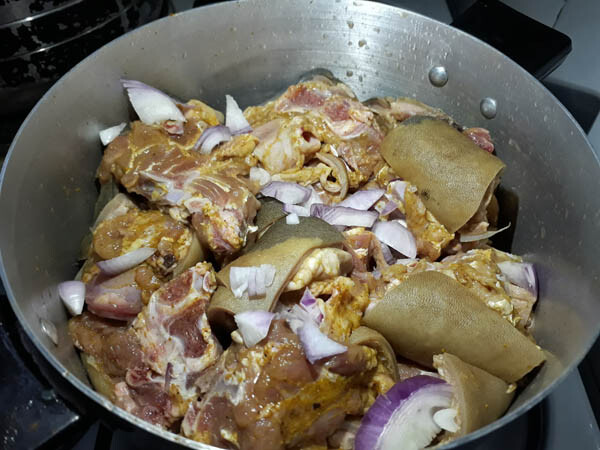 Add water up to the level of the contents of the pot when cooking. When cooking meat, try not to add salt to the raw meat. This is because salt closes the pores of the meat. This prevents the meat's natural flavour of the goat from coming out into the surrounding water; and prevents the seasoning from entering the meat to improve the taste. The result is that your stock will not have a rich natural taste. It will only have an artificial taste of seasoning. Salt also hardens the meat hence it takes longer to cook. So only add salt when the meat is cooked.
How to prepare stew: directions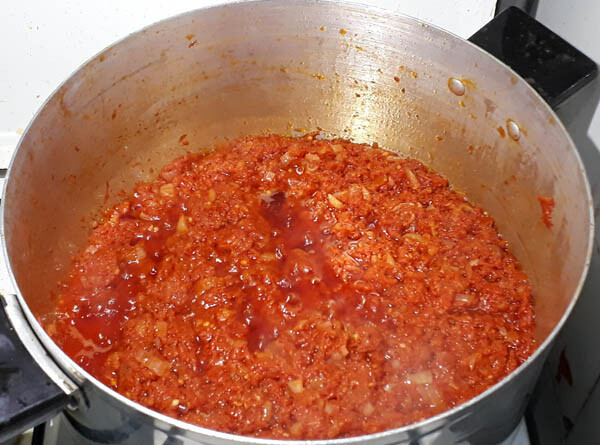 Pour the fresh tomato blend into a pot and cook at high heat till almost all the water has dried. If you have the watery tinned/boxed tomato puree, add these to the pot and reduce the heat to low. Cook till the water in the tomato puree has dried as much as possible.
Add the vegetable oil, the chopped onions and the thick tomato puree that you mixed in step 2 above (if it's the puree you are using). Stir very well.
Fry at very low heat and stir at short intervals till the oil has completely separated from the tomato puree. A well-fried tomato puree will also have streaks of oil, unlike when you first added the oil and it was a smooth mix of the tomato puree and oil. Taste the fried tomato puree to make sure that the raw tomato taste is gone. With time and experience, you can even tell that the tomato puree is well fried from the aroma alone.
When you are happy that the tomatoes in your tomato stew are well-fried, pour out the excess oil.
Place the pot of tomato stew back on the stove and add the meat stock (water from cooking the goat meat). There may be tiny pieces of bones at the bottom so be careful not to add those.
Add the chilli pepper and the grilled goat meat. Stir very well and add salt if necessary. You can also add some water at this point if the stew is too thick.
Cover the pot and cook at medium heat till the contents of the pot are well steamed. Stir again and you are done.
Watch tutorial video here:
That is how to cook stew the Naija way. Bon appetit!
Also read: 3 Ways To Cook Tasty Chicken Wings