2 Simple Techniques That Teach You How To Mix Cream For Chocolate Skin Tone
Making your own body cream guarantees its quality. Now your chocolate skin will glow like never before!
Many skin care products in the market have harmful chemicals in them. That's why more people want to make their creams themselves. That way, they are sure of what goes into it. Also, homemade products are not only healthier, but they are also less expensive. So in essence, you're getting even better value at less cost. And this is why we're going to teach you how to mix cream for chocolate skin.
Your skin is one of Mother Nature's gifts to you, and it goes without saying that you have to take good care of it. Using a good body cream is one of the ways to take good care of your melanin skin. That's why learning how to mix cream for chocolate skin is important. You're not just rushing off to the market to buy ingredients. There are a few things you need to do first, and we'll highlight them here.
How To Mix Cream For Chocolate Skin: Before You Begin
First, you will need to determine your skin type, if you don't already know it. Yes, your complexion is chocolate, but what kind of skin do you have? This is important because different types of creams work best for different skin types. Here are the different skin types and their major features:
Normal skin: not sensitive, has extremely small pores and a bright complexion. It is not dry or oily.
Combination skin: can be dry or normal in some areas and oily in others. The oily areas are usually the nose, forehead, and chin. It can cause overly dilated pores, blackheads, and an oily sheen on certain parts of the skin.
Oily skin: has wide pores and is prone to blackheads, pimples, and other blemishes. People with oily skin can have either a dull or shiny complexion.
Dry skin: has less elasticity, and more visible wrinkles and lines. Also has nearly invisible pores and a dull sheen. Sometimes, the skin can be scaly, irritated, inflamed, or peeling.
Next, you'll have to decide on the best ingredients for your skin type. Certain ingredients work well for certain skin types. Find yours, because you'll be including them in your cream mixing project. For instance:
If you have dry skin, include moisturizers like aloe vera, cocoa butter, olive oil, or honey. These also help repair cracked skin and reduce scars.
If you have oily skin, opt for oils that don't clog your pores. Think tea tree oil, and essential oils with citric acid, like lemon oil.
For dry skin, you want refreshing ingredients like cucumber, aloe vera, or rose water. They have a cooling effect that will stop inflammation and discomfort. And milk or yoghurt will help fight free radicals and harmful bacteria, remove dead skin cells, and gently moisturizes your skin.
If this is all a bit too much for you, you might want to consider buying one of the best creams for dark skin tone.
 Here's How To Blend Cream For A Dark Skin Tone
Homemade Natural Moisturizing Cream for Glowing Skin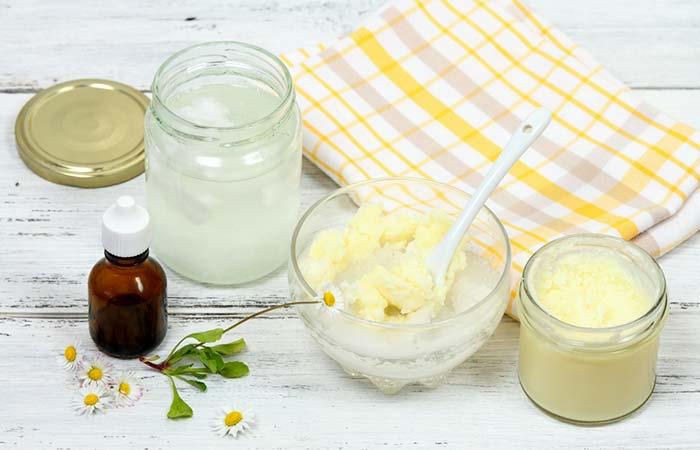 250 grams shea butter
6 tablespoons jojoba oil
20-30 drops orange essential oil (or other essential oil)
2 or 3 small airtight glass jars
METHOD:
1. Thoroughly wash and dry your jars; be sure there's no drop of water in them. And make sure all your utensils are clean and dry.
2. Melt the shea butter in a water bath so that it becomes partly runny with some clumps. Puree the shea butter with a hand mixer until smooth. The cream should be white and quite thick. If the shea butter melted completely and became an oil, put the mixture in the fridge for a while to solidify. The cream should be quite solid so that it can whip into a foam.
3. Add the jojoba oil and orange essential oil into the cream and mix with a spoon until smooth. Beat with a hand mixer until creamy, like whipped cream. Spoon the cream into jars.
4. Store the cream at room temperature in airtight glass jars. The cream will remain good for several months.
Homemade Body Butter with Coconut Oil & Cocoa Butter
3/4 cup cocoa butter
1/2 cup cold-pressed coconut oil
1/4 cup almond oil
10 to 20 drops of essential lavender oil (or another essential oil)
METHOD:
1. Clean and dry the jar you'll use for the body butter carefully so that no water is left. Make sure that all the utensils you use are clean and dry.
2. Melt the cocoa butter and coconut oil in a warm water bath until liquid. Remove from the heat and mix in the almond oil. Place in the fridge for about an hour to cool. (If the mixture is too runny, it won't foam).
3. When the mixture is clearly a bit thicker, take it from the fridge. Add the essential lavender oil and whip into a fluffy foam with an electric mixer. This will take usually a few minutes. Spoon the cream into a jar.
4. Store at room temperature in an airtight glass jar. The cream stores well for 2 to 3 months.
Which of the recipes did you try? Give us feedback in the comments.
Also read: Best Cream For Dark Skin Tone: Quality Skincare Products For Your Family