5 Reasons Why We Love Star Wars Actor John Boyega
John Boyega began acting at Theatre Peckham; a local performing arts centre in London for talented children aged 9 to 14. He spent almost every day after school at the theatre, as well as weekends. At 16, he moved to South Thames College to study performing arts and joined the Identity School of Acting in Hackney. He enrolled at Greenwich University but as his career took off, he left to concentrate on acting. Nigerian-born Yoruba man, John is not only a Star Wars fave character, and we're sharing 5 reasons we think he's an absolutely amazing human being.
Why We Love John Boyega
He Loves To Rep The Culture
John Boyega was spotted on the red carpet of the Star Wars premiere in London this weekend. He looked regal in his blue agbada with gold detailing, complete with the traditional cap. It is one thing to rep the African culture, but it's an even bigger deal to slay hard at it.
John didn't stop there; he got his whole family to wear Nigerian too. And we daresay they all looked absolutely fabulous.
He's Got An Amazing Sense Of Humour
When asked about his relationship with co-star Harrison Ford, John insisted they were best friends. He took Harrison to meet his parents and then took him out to lunch. John always has a joke to tell, and often he's the butt of the joke. In this day and age, it's a real skill to be able to laugh at yourself and take life easy.
John Boyega Is A Family Guy
Really, the young man is very family-oriented. Back in 2017, he did what he did this past weekend. He took his family to the London premiere of Star Wars: The Rise Of SkyWalker.
That Depth… Inspirational Role Model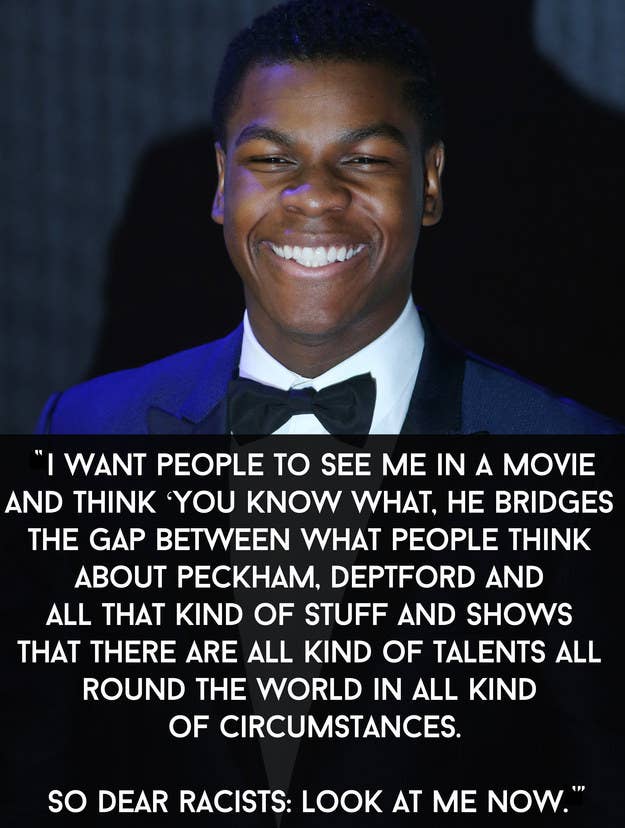 John Boyega also preaches the message that impossible is nothing. And that dreams are valid, regardless of one's roots. At a certain interview, he had a message for racists: "I want people to see me in a movie and think, "you know what, he bridges the gap between what people think about Peckham, Deptford, and all that kind of stuff. And it shows that there are all kinds of talents all around the world in all kinds of circumstances. So dear racists, look at me now."
Deep!
When It Comes To Jollof Rice, Boyega Knows What Time It Is
In a banter episode of "Ghana-Nigeria Jollof wars", British-Nigerian actor John Boyega had his say on which country makes the best jollof rice. And of course, he vouched for his home country. In a question posed to him in an interview on BBC Radio 1Xtra, the Star Wars actor said he feels Nigerians have perfected the art of cooking the savoury dish though he has "messed" with Ghanaian jollof and is "down with it" (meaning Ghana jollof is also good).
Very controversial topic. Please. No arguing. @bbc1xtra Nigerian and Ghanaian food talks can get real sensitive. 🇳🇬 🇬🇭 pic.twitter.com/kgOg4KBwBV

— John Boyega (@JohnBoyega) March 20, 2018
Spoken like a diplomat, John. But we hear you. And we love you.
Bonus Reason: He's An Estrogen Supporter
View this post on Instagram
Watch Video of Premiere Red Carpet
Also read: 10 Reasons Why We Love Our Zozibini Tunzi