Pastor Puts Paid To Marriage Proposal In His Church During A Wedding
This pastor disrupted a marriage proposal in his church while officiating at a wedding. His reason? He wasn't aware of the relationship.
The story below is the classic case of a marriage proposal gone wrong.
A man got more than he bargained for when he attempted to propose to his girlfriend. This was during the church service of a wedding. Sadly, the marriage proposal was disrupted by the pastor, who said he was the girl's father.
Church Marriage Proposal Gone Wrong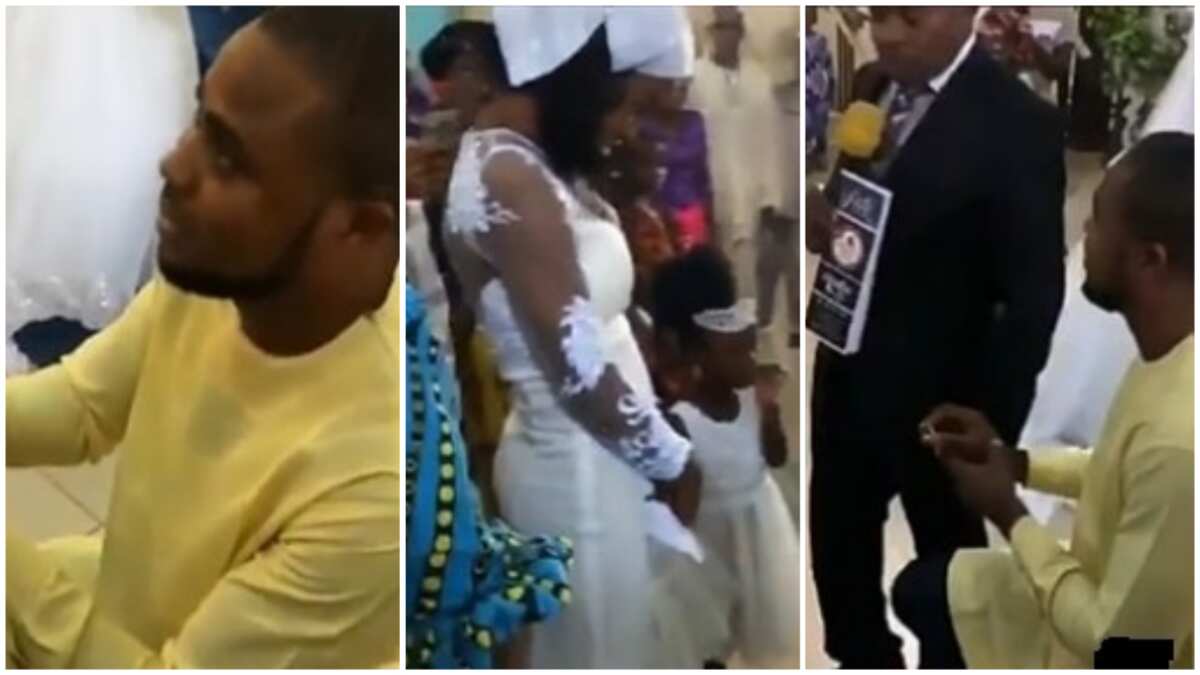 The man had attended a wedding with his girlfriend where she was part of the bridal train. During the service, the lover boy summoned courage and walked to his girlfriend who was in front of the church. Then he went on bended knees, brought out the engagement ring and popped the question.
But the pastor in charge of the church was having none of it. He immediately stopped him; saying the girl in question was his daughter and that he is not aware of their relationship. He also stated that the boyfriend was supposed to meet with him before proposing to his daughter. He apologized to the boyfriend for any embarrassment he might have caused him but stood his ground that the man must do the right thing by meeting him first.
Watch the marriage proposal video below:
www.instagram.com/p/B6F79_znuBM/?utm_source=ig_web_copy_link
What are your thoughts on this? Do you agree with the pastor?
In old fashioned family settings, fathers believe that a man is showing respect when he asks for the daughter's hand before going to propose to her. But is it mandatory?
However a man decides to propose to his lady, it begs to mention that the act of a marriage proposal takes a lot of courage and lots of planning. Here's a step by step guide to making a marriage proposal below:
Step By Step Guide To Creating A Memorable Marriage Proposal
Make Sure You're Ready
Before you even consider proposing, you need to make sure you're ready to fulfil the biggest commitment you'll ever make. Whether you believe in the concept of "The One" or not, you need to ensure your partner is the right person for you.
Think about the reasons why you want to get married and why you specifically want to marry your significant other. When you feel you're completely compatible and there's no one you'd rather spend your life with; that's the right time to propose.
Know What Your Partner Will Say
Your proposal should be a surprise but the fact that you want to get married shouldn't be. Speak to your partner and make sure you're both on the same page about marriage; and where you are in your relationship. You can keep the conversation casual while finding out how they feel.
Listen out for hints they make about marriage. These are a clear indicator that it's the right time for them. If they feel you've been waiting too long, these will likely become more common and hard to miss.
Get Their Ring Size
If you've never worn rings, you might not be aware that they come in different sizes. You'll need to know their size before you order the ring and keep in mind that guessing rarely works out.
Thankfully, there are a few different techniques you can use to get it right:
Drop it into everyday conversation.
Enlist the help of their bestie. Friends talk, especially if weddings are on the cards so use them to find out the size.
If she's a heavy sleeper, tie a piece of string around their finger to measure.
If she wears a ring on the opposite finger, borrow that to find out the size.
Find the Perfect Ring
In the ideal world, you and your partner will be completely in sync; and you'll be able to pick out their perfect ring with ease. In reality, you're more likely going to be completely baffled by the huge number of styles and colours available.
Ask for Permission
The tradition of asking for the father's permission before proposing isn't as common as it once was. However, it's a nice custom that's sure to impress your future in-laws. It doesn't even have to be your partner's father. Choose the member of the family they're closest to and ask them.
It's not 100% necessary to ask for permission, just do what will make your partner happy. If they're from a traditional family, it's probably best but a more liberal family likely won't be as bothered.
Pop the Question
Once you've done all of the preparation, there's just one thing left to do: pop the big question. Be confident and try to say everything you planned to say. Most of all, enjoy it and try to remember the details. The proposal will likely be over in seconds and it's easy to miss out on the finer aspects.
Also read: Wedding Planning 101: How To Build A Hitch Free Guest List