Mum Of 8 Slapped To Death And Signs Of An Abusive Relationship
These tips show you what signs to look out for in a potentially abusive relationship, so you'll never wind up slapped to death.
A 40-year-old mother of eight, Glory Madukwe has died after she was slapped to death by her husband. The unfortunate event took place at their Egando, Ogun state residence. Her husband allegedly slapped her for refusing to breastfeed their crying one-month-old baby.
The deceased who complained of tiredness, promptly slumped and died. This was after her enraged 40-year-old Okada rider husband slapped her. Her husband, Kingsley Madukwe slapped her as she tried leaving the bedroom for the living room.
The Ogun State Police Public Relations Officer, Abimbola Oyeyemi confirmed the incident.
According to Oyeyemi, the police arrested the suspect on Wednesday. The arrest came after a report from one Chief Rafiu Gbadamosi, the Baale of Egando in Atan - Ota. He said that the couple had had a minor misunderstanding. As a result, the husband beat the wife to death at about 11 : 30 pm .
Oyeyemi said his men arrested the suspect on Wednesday September 11.
Oyeyemi said, "On the strength of the report, the DPO Atan Ota division, SP Salau Abiodun, led his detectives to the scene where the suspect was promptly arrested. "On interrogation, the suspect, an Okada rider who is an indigene of Ihiala in Anambra State, stated that his late wife, a mother of eight was having a month old baby. And that the baby was crying which made him wake his wife up to breastfeed the baby. But she refused, claiming that she was too tired to breastfeed the baby at that time. "He stated further that the victim got up and was going to the sitting room leaving the baby behind. And this got him annoyed, consequent upon which he drew her back and gave her a hot slap. "The woman there and then fell down and gave up the ghost. The corpse of the victim has been deposited at the General Hospital Ota mortuary for post mortem examination."
The police has transferred Kingsley to the Homicide Section of the State Criminal Investigation and Intelligence Department for further investigation and prosecution.
4 Signs Of An Abusive Relationship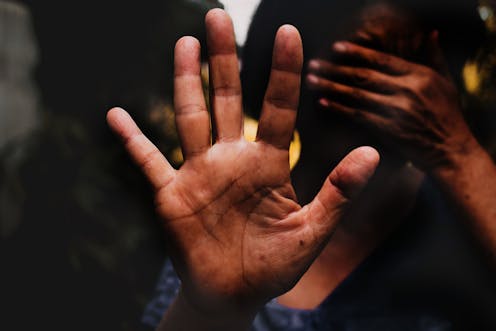 Domestic violence is once again in the forefront of the news. In light of the increase in domestic violence accidents and deaths, we've put together some signs to help you identify a potentially abusive relationship. This is because the signs are always, there, and we would be saving lives by helping people know these signs:
Extreme Possessiveness
The idea that your partner is yours and you are his can be charming and even sweet. But when taken to extreme levels, it can be an extension of one partner not trusting the other. The message of frequent jealous behaviour is 'I don't trust you. And I don't want you to talk to anyone I don't approve of'. Not healthy.
Disregarding Boundaries
Boundaries are an important attribute of a healthy relationship. They not only keep us sane when we're living in close quarters with a significant other. But they provide an outlet for each person in the relationship to maintain his or her individuality. Any partner who does this may be a violent partner.
Controlling Behaviour
Financial control may look like a partner restricting access to your money or credit cards. Or attempting to control what you spend your money on, or preventing a partner from getting or keeping a job. Physical control could be a partner limiting your access to a car,. Or telling you where you can and can't go or checking the GPS on your car to see where you have been. You'll agree this is creepy and unhealthy.
Physical Aggression
This doesn't have to be physical touch or action. It can also be aggressive behaviours using looks, gestures, or words. It may also look like throwing or smashing things, punching walls, or destroying property. Sometimes the aggressor might brush off violent behaviour as 'play fighting'. But the behaviour is meant to show that he/she has power over the other person."