Recipe: This Is How To Prepare Ofada Rice And Sauce
Ofada Rice and sauce is a Nigerian favourite. The combination of meats and peppers adds complex flavours that keep everyone wanting more. The best part about this ofada rice recipe is that it is easy to prepare and will have you enjoying the meal in no time at all.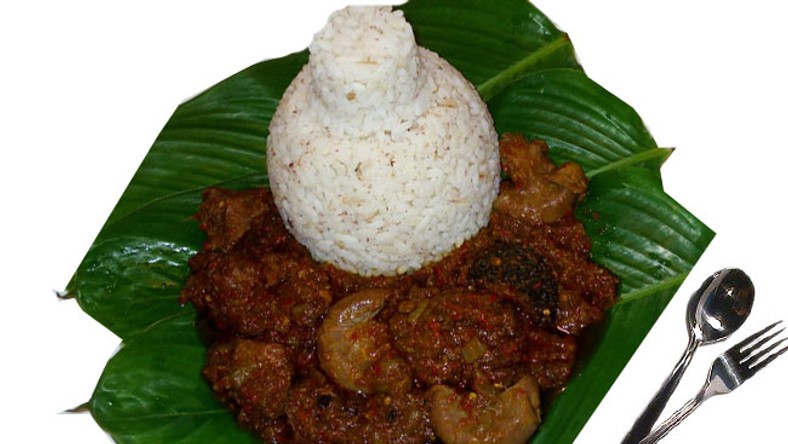 Ofada rice is also a healthier alternative to white rice dishes due to its high fiber content. Eaten with a peppery sauce, the meal is a delicious choice for guests at parties and other big social events. Keep reading for the recipe.
How To Prepare Ofada Rice And Sauce
Ingredients
Serves - 4 people
2 cups of Ofada rice
4 large green bell peppers (chopped)
2 large red bell peppers (chopped)
10 pieces of unripe habanero peppers a.k.a Atarodo (chopped)
1 red onion (chopped)
1kg of assorted meat (Goat meat, Shaki, Kponmo, Beef)
Virgin Palm Oil
Seasoning cubes
Salt to taste
Locust beans (a.k.a. Iru)
Crayfish
Now that you have all your ingredients ready, let's proceed to the cooking proper.
Method
Step 1
To prepare the Ofada Rice: Wash the rice, put in a pot and parboil for 5 minutes Drain the water using a sieve, wash again and put the pot back on fire, add salt to taste and enough water to cook the rice till it's done.
Step 2
To prepare the Ofada Stew: Wash and blend all the peppers i.e. the green and red bell peppers, unripe habanero peppers, onions and set aside.
Step 3
Blend the crayfish and locust bean using a dry mill, or you could pound them using a pestle and mortar.
Step 4
Wash all the assorted meat and cook them until they are properly done and set aside.
Step 5
In a separate pot, pour in the blended pepper and cook until all the water dries up (this should take about 20 minutes on medium to high heat)
Step 6
Place a clean dry pan on medium heat, pour in the Virgin Palm Oil, cover the pot and allow to bleach for about 15 minutes. (the time may vary depending on your cooker and amount of oil). The bleached palmoil should have a golden-honey colour and be clear to look at.
Step 7
Allow it to cool down for about 2-3 minutes, thereafter add in the blended pepper, blended crayfish and locust beans and fry until the oil floats to the top.
Step 8
Add the cooked meat and give it a good stir.
Step 9
Add salt to taste, seasoning cubes and stir.
Step 10
Leave to simmer for another 2 minutes on low heat, and it's ready to be served. Serve with Plantain.
Here's Why You Need Ofada Rice In Your Diet
Ofada rice is a local rice produced in Nigeria, it is short and has brown stripes because it is cultivated without chemicals. Though looked down upon for its unrefined, local nature, and unique smell, it contains lots of vitamins and minerals that are good for your health. It is also high in fiber and is a good substitute for people who are supposed to stay away from white rice.
Here are more health benefits of Ofada rice:
1. Good for bone health
Ofada rice contains essential minerals such as magnesium, phosphorus, zinc, and folate. They help in the absorption of other bone health nutrients required to nurture your bones and prevent bone diseases.
2. Boosts your immunity
The presence of vitamins and minerals such as vitamins A, C, and E help to make the body stronger. They boost your immune system against certain diseases. Ofada rice also contains three times more vitamin B+ and 10 times more vitamin B1 and B6 than white rice.
3. Lowers bad cholesterol levels
The high amount of dietary fibres in Ofada lowers LDL cholesterol levels. LDL cholesterol is responsible for excessive weight gain due to insulin resistance.
4. Contains a lot of antioxidants
The amount of antioxidants in Ofada rice is 20-30 times more than that in white rice. Antioxidants help to prevent damage to the system caused by free radicals. Free radicals are unstable molecules that are produced in your cells during your own metabolism which could cause healthy cells to mutate. Intake of foods and drinks that can neutralize these free radicals are highly encouraged.
5. Fights diabetes
Due to the cellulose and fibre content of Ofada rice, it is recommended for calorie management in health conditions such as diabetes.
6. Prevents constipation
A healthy digestive system is a good thing. Ofada rice contains a whole lot of dietary fibre which fights constipation, diarrhoea, bloating and other gastrointestinal cancers such as gastric ulcers.
Also read: Does Okra Clean Out Your System? Benefits Of Okra (Recipes)