Introducing Victor Uzor And His Team At Mani
With very scant psychologists in the mental health sector and a dense population, Nigeria needed a new idea. It came in the form of Victor Ugo and his team.
Mental health professionals are rare in Nigeria, as they are in many other developing nations. In Africa's most populous nation – a country of more than 200 million people – there are an estimated 150 practicing psychologists. Mental health treatments are patchy, inadequate and underfunded in most western nations. But they are practically nonexistent in the majority of lower- and middle-income countries. This is more than 100 countries worldwide. Here, mental health provisions are the poorly resourced afterthought of health budgets that are in any case likely to be meagre. So when a group of people came together to empower Nigerians, it was welcome. Their mantra? Nigerian people, heal thyselves. Because nobody is coming to heal you.
Nigerian People, Heal Thyselves: Enter Victor Ugo, Founder of Mani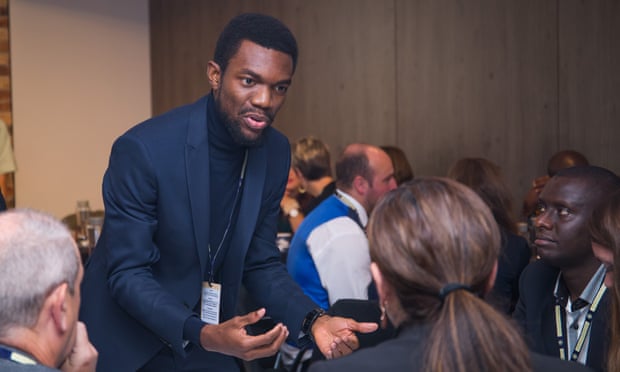 So what is to be done? Foremost Abuja-based psychologist Ajeigbe decided that a partial answer lay in the voluntary sector. A year ago, he agreed to head up the Abuja section of Mentally Aware Nigeria Initiative (Mani), a burgeoning user-led organization. Mani is fast emerging as a multi-pronged solution to Nigeria's mental health crisis.
In 2016 Victor Ugo launched Mani. Back then, he was a medical student from Lagos who had suffered from depression. Mani came as a response to the lack of mental health support in Nigeria, where an estimated 7 million people suffer the condition.
Ugo's vision was to drive change by raising awareness and dispelling stigmas that exist around mental health issues in Nigeria. And on Wednesday, he appeared at the annual Goalkeepers event on the sidelines of the UN General Assembly in New York. He made a case for more funding and fairer treatment for mental health.
Mani And The Work So Far
"If you have depression," says Latifah Yusuf Ojomo, deputy head of Mani's Lagos team, "people can cast you as mad. Which means that the majority of people who have mental health issues in Nigeria do not understand, or want to accept what they are feeling."
From the outset, Ugo decided that Mani would focus attention on the country's most populous demographic. "Young people [in Nigeria] are much more open to learning new things," explains Ugo. "They are much more focused on ways to change." Which is why the call to people heal thyselves is a success.
Mani needed a "cool factor", something Ugo says was sorely lacking in the mental health sector: "Symposiums, that was all that was happening with mental health in Nigeria. Just more and more symposiums. People would give a lecture saying we need to increase awareness, but nothing was happening."
Ugo and a small band of medical students took to social media, sharing stories and launching online campaigns. Then in October 2017, they hosted their very first event. Not a symposium as Ugo is keen to point out, but a food fair: "We just said come and you can taste different delicacies, play games and talk about mental health in a cool way."
The event was a huge success and evolved into a series of monthly workshops. All of them are focused on topics such as depression and anxiety. As Mani continued to grow in number, these meet-ups became known as "conversation cafes". They held in restaurants, parks, and cafes, and eventually spread to cities all over Nigeria, including Abuja and Ibadan.
Mani And The Way To The Future
Two years later, Mani is now a leading voice on mental health issues in the country. It has more than 1,500 volunteers and is active in 13 of Nigeria's 36 states. Ugo is still taken aback by what the project has achieved. "We didn't know we were going to end up here; in fact, I feel like we have been a hundred times more successful than we expected at the start."
"At the moment we are still very much self-funded, Ugo says. "This is a big challenge, considering how much more impact we believe we can make. And the speed with which we are growing our network across Nigeria."
• Mani can be contacted at [email protected] and on +234 805 1493163
Resource: The Guardian
Also read: What Is The Public Response To Mental Health In Nigeria?