Here's An Easy Recipe For Making The Best Peppered Chicken
Peppered Chicken is indeed the popping red, spicy answer to the basic Grilled Chicken.
Peppered Chicken is basically fried or grilled chicken fried in a very rich tomato stew. Peppered Chicken is favourited at Nigerian parties and is absolutely delicious.  They are very easy to make and ideal for entertaining guests these summer months. So, if you've got barbecues or house parties on your mind this summer, you might want to add these finger-licking goodness to the menu, maximum satisfaction guaranteed!
This peppered chicken recipe works just fine with fried/grilled meats, snails and fish as well; throw in some king prawns for double the yum.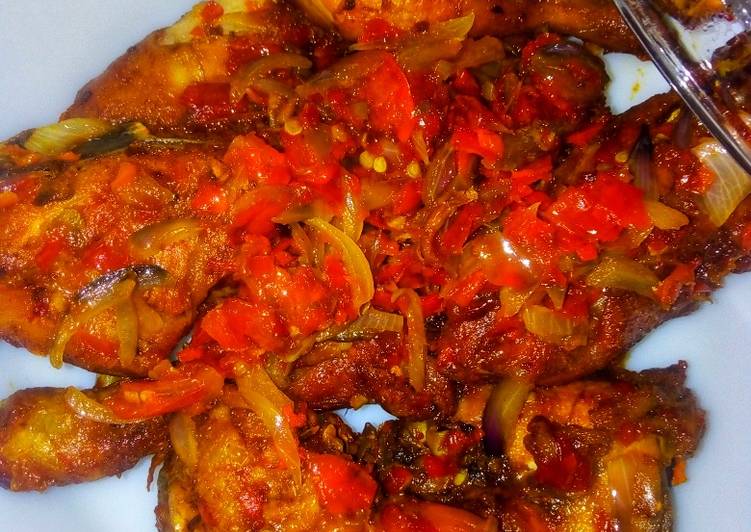 Peppered Chicken is a great addition to your Nigerian party food. It comes to the rescue when you have one or two friends visiting. It's surely a great snack to catch up on the latest gist or watch a football match over, with some chilled drinks to wash it down. Serve your Jollof Rice with Peppered Chicken and watch your family lighten up over the dinner table.
Now, peppered chicken... here's the recipe
Ingredients ( For 20 Chicken drumsticks)
1 can plum tomatoes/ 3 big tomatoes
21/2 cooking spoon cooking oil
2 red bell peppers
2 big onions
2-3 scotch bonnet
1 tablespoon minced ginger
11/2 cups chicken/beef stock
3 cloves garlic
70 grams tomato purée
1/2 teaspoon curry
1/2 teaspoon thyme
Bullion cubes
Salt to taste
Directions
Clean and rinse the chicken thoroughly.
Transfer into a big pot, season with onions, curry, thyme, pepper, bullion cubes and salt
Tip: It is better to marinate your chicken overnight with knorr chicken cubes; garlic powder, mixed herbs, Aromat seasoning and a teeny bit of sunflower oil. This helps to enhance the flavour.
After marination, You'll still need to season your chicken again before cooking, makes sure it's as flavourful as possible. You'll use the stock in the preparation of the stew.
When it's boiled and tender, grill or deep-fry the chicken. When it's done, set it aside.
Blend your peppers and tomatoes and 1 whole onion and ginger to a smooth paste and set aside, you can also choose to blend roughly if you prefer to.
Place another big pot on a hob on medium heat, add 2 cooking spoons of oil.
When it's hot, add 1/2 chopped onions, sauté till translucent.
Add the garlic, sauté till fragrant, be careful not to burn the garlic.
Then add the blended pepper mix, 1/2 teaspoon curry and thyme, 3 bullion cubes and salt, be careful not to over-season.
Now add the tomato purée, stir continuously for 5 minutes, this is to prevent it from burning. Remember you will be adding the stock later and this already contains salt.
Let this fry for 10-15 minutes or until the pepper reduces by almost half.
While that's frying, get a smaller pot or frying pan, place on a hob on medium heat, add 1 cooking spoon oil, when it's hot, add chopped onions, sauté till fragrant.
Use a mixture of white and red onions to get the best of both flavours.
Now, add the fried or grilled chicken, combine and make sure the sauce covers every bit of the chicken; leave to stew on low to medium heat for 5-8 minutes.
Tip: To enable the stew to penetrate deep into the chicken, you can poke tiny holes in the chicken with toothpicks. It's ready!
If you're not ready to serve the peppered chicken yet, you can leave it in the stew for longer for added flavour
Source: Sisi Jemimah
Also read: Here's How To Cook Egusi Soup With Ugwu Leaves (Recipe)
Any views or opinions expressed in this article are personal and belong solely to the author; and do not represent those of theAsianparent or its clients.