Pregnancy After Menopause: 58-year-old Menopausal Woman Allegedly Gives Birth To Baby
One of science's explained miracles.
Is pregnancy after menopause even possible? That's the question we will be answering today.
The story of a 58-year-old woman is currently trending. Dorcas Osiebo reached menopause in 2006; she welcomed a baby a few days ago. Miracle or science, you ask? We say miracle AND science. Read more about Dorcas below:
Pregnancy After Menopause: See The Dorcas Oseibo Story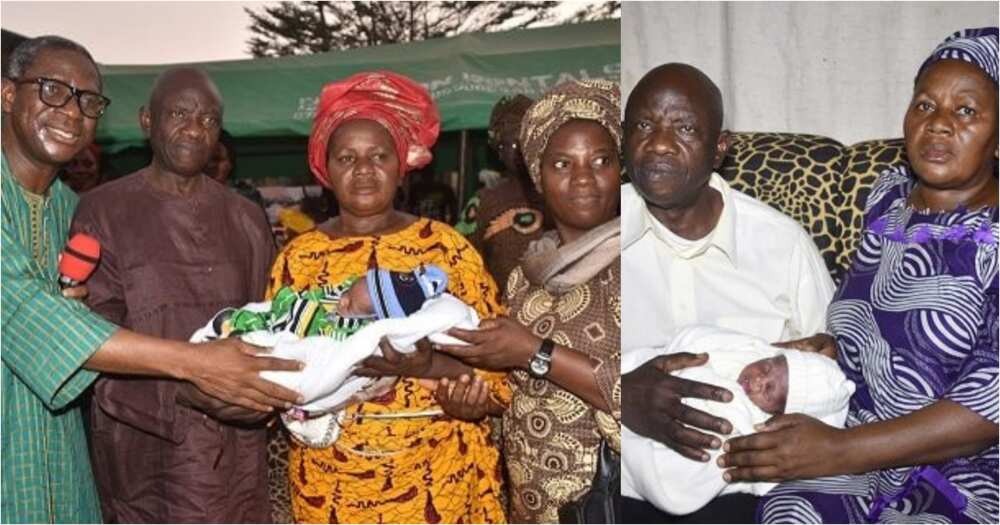 Christmas came early for Dorcas Oseibo, who delivered a bouncing baby boy on Friday 13th December 2019. This baby comes 13 years after Dorcas attained menopause.
According to a Facebook user identified as Wisdom Nwedene, Dorcas stopped menstruating 13 years ago without a trace of pregnancy. But she never gave up on trying to have a child. The woman and her 64-year-old husband, Christopher Oseibo, welcomed their baby boy after 35 years of marriage.
According to the woman, her husband did not believe that she was pregnant when she told him. She said: "When I told my husband, he didn't believe I was pregnant. But I discovered that I no longer like to eat my best foods and my clothes no longer size me."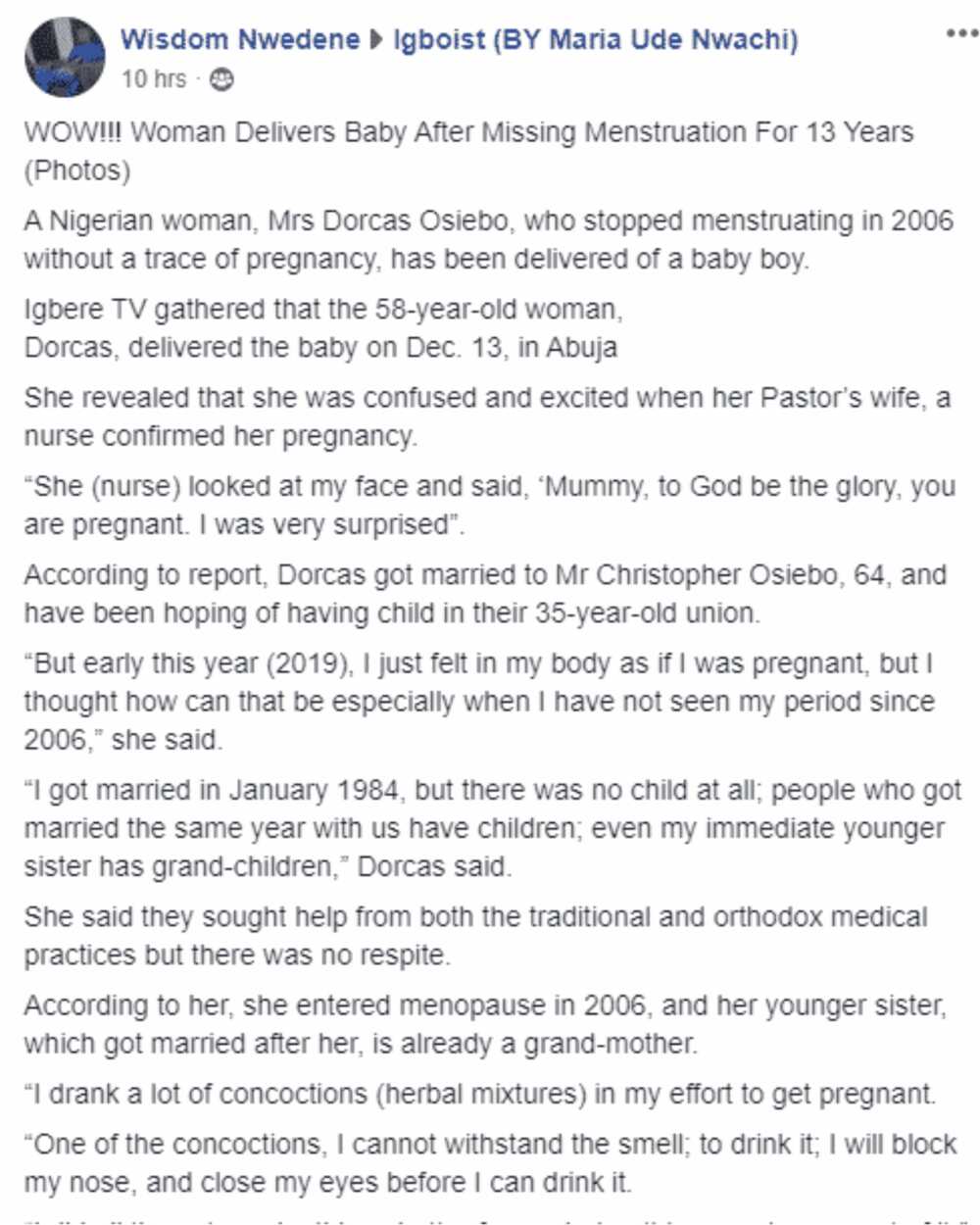 So can you get pregnant after menopause? Borrowing from the above story, the simple answer is yes. And we're set to tell you how.
Women After 50 Can Have Safe Pregnancies
As the years go by and technology advances, the barriers to getting pregnant reduce even more and more. It used to be thought that women shouldn't get pregnant over the age of 40. Today, women over 50 years and their doctors wonder if it is safe to push that barrier even further.
As you enter the menopausal stage of your life, it's important to understand this transitional phase. Even if you're having hot flashes and irregular periods, you can get pregnant, even though you're probably not as fertile as you once were.
According to Richard J. Paulson, MD, there's no medical reason why women aged over 50 cannot get pregnant. Paulson is Chief of the division of reproductive endocrinology and fertility at the University of Southern California Keck School of Medicine; he is also the lead investigator on a study that appears in The Journal of the American Medical Association.
The study involved postmenopausal women aged 50 to 63 years. Though the women could no longer produce eggs, they had donor eggs implanted in their uteri. The study revealed increased pregnancy complications, which could be handled by close monitoring and quality healthcare.
"There are really two biological clocks: One for the ovary, which seems to run out, and one for the rest of the reproductive system, which seems to go on," said Paulson. All that's needed is a little priming with the hormones estrogen and progesterone, followed by a donated, fertilized egg."
In-Vitro Fertilization For Pregnancy After Menopause
IVF after menopause has been successfully demonstrated.
Your postmenopausal eggs are no longer viable, but there are still two ways you can take advantage of IVF. You can use eggs you had frozen earlier in life, or you can use fresh or frozen donor eggs. Also, you will need hormone therapy to prepare your body for implantation and to carry a baby to term.
Out of 121 attempts during the study, there were 45 births. Experts think that's a pretty good percentage; one that improved over the course of the study with improvements to the procedure, according to Paulson. But there were complications.
An unusually high percentage of women (78%) who gave birth had cesarean sections. In addition, 20% developed gestational diabetes -- compared to a more typical rate of 5%. More worrisome was a 35% rate of pregnancy-induced high blood pressure. Most of the cases were mild, but typical pregnancies carry only a 3-5% risk of this condition.
When compared with premenopausal women, postmenopausal women are more likely to experience both minor and major pregnancy complications after IVF. Depending on your overall state of health, IVF after menopause may not be an option for you. But it's worth consulting with a fertility expert who works with postmenopausal women.
Marcos J. Pupkin, MD, agrees that there are no real medical reasons to not get pregnant after menopause. "If someone wants to be a mother at age 50, that's a different issue. That's something that society will have to decide. Do they have time to take care of children? It may be that they're going to do better than a mother who is 18," Pupkin is chair of the department of obstetrics and gynecology at Mercy Medical Center in Baltimore.
So, can you get pregnant after menopause? Absolutely, if you want to!
Also read: Relactation after menopause: Is it possible?