Woman arrested for stabbing and killing husband to death for refusing her from leaving the marriage
Police in Nakuru have captured a 21-year-old woman for allegedly stabbing and murdering her husband at Gorofa Estate.
Police in Nakuru have arrested a 21-year-old woman for allegedly stabbing and killing her husband at Gorofa Estate. This was a case of a toxic relationship turned fatal.
Ms. Mercy Rita Wanjiru allegedly stabbed 23-year-old Kevin Kuria on the chest as he had tried to block her from leaving their house at 9.30 am. According to the area 'Nyumba Kumi' elders, Ms. Wanjiru had packed her belongings and wanted to leave following frequent domestic fights.
Nyumba Kumi Chairperson Gives Details Of How Toxic The Couple's Relationship Was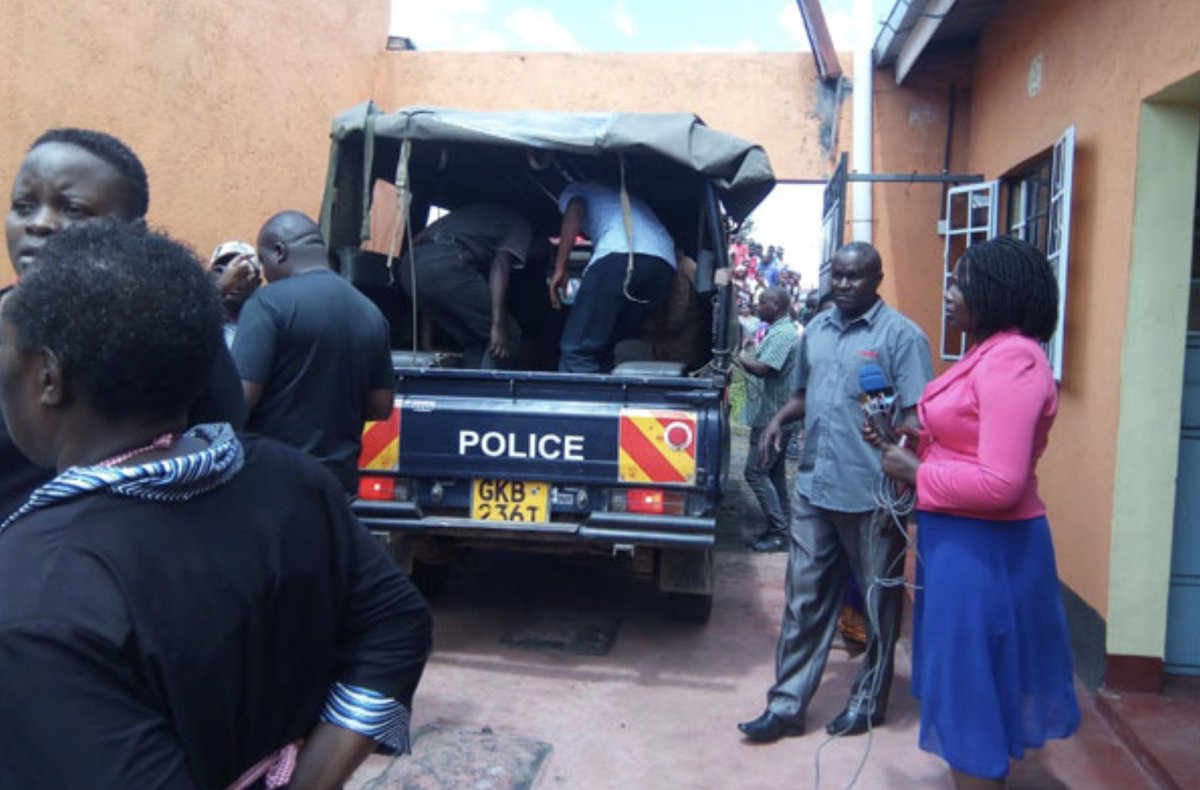 "She had her suitcase already packed but the man would not allow her to leave. An argument ensued before a fight broke out," said Nyumba Kumi Chairperson Daniel Thiong'o.
"When I was called to intervene, I found the man lying helpless on the floor with blood oozing from his chest," Mr. Thiong'o said.
Another Nyumba Kumi elder Peter Ng'ang'a said he found the suspect, who looked remorseful; sitting on a chair next to her husband's body. "She kept making phone calls to neighbours and friends to help her take her husband to the hospital," Mr Ng'ang'a said.
Mr. Ng'ang'a said at one point, the woman was saying that she was defending herself after he tried to stab her. Neighbours said the couple often fought. They said each time the couple had a fight, the woman threatened to eliminate her husband.
"They would fight almost daily. During the fights, the woman would threaten to kill her husband," said Ms. Jane Kangogo, a neighbour. Ms. Rosaline Keino added that the suspect, a businesswoman, would sometimes accuse her husband of not providing for the family.
Nakuru County Police Commander Stephen Matu said the man's body was moved to Nakuru Level Five hospital mortuary, while the suspect is held at Nakuru Central Police Station.
"Investigations are ongoing, the suspect will be taken to court on Friday," he said.
It is so sad that a life was lost and another destroyed, for a toxic relationship. No one should have to endure a toxic relationship. This is why experts encourage couples to "leave to live." When you cannot fix it, it's time to get out.
Here Are A Few Tips For Leaving A Toxic Relationship
Unhealthy, toxic relationships are often baffling to people on the outside. Surely, if someone makes you miserable and hurts you physically and emotionally, the obvious decision is to leave them, right? Well, the truth is often more complicated. People get tied up in relationship patterns that can be hard to break out of. Many people also feel trapped financially or worry about their children. In fact, women make an average of seven attempts to finally end an abusive relationship. Before it leads to stabbing and killing, the right thing to do is leave.
Why is it hard to leave a toxic marriage? It could be any of the following reasons:
Your partner is extremely manipulative towards you
You are afraid of the future
Your self worth has taken a beating
You're staying for the children
You are terribly ashamed
6 Steps to Leave a Toxic Relationship/Marriage
Ending a bad relationship can be really complicated, so here are some things you should use to make the process as easier.
Build a safety net.
If you're thinking of ending a relationship, make a plan for how you are going to deal with the transition. Where will you stay? What possessions will you need to bring along? Don't do this haphazardly. You should take the time to think this through thoroughly.
Set a goal to be independent. 
If you do not have a career or a way to support yourself, it is time to begin carving this path. Go to school, get training, begin a job (even a low level or part-time job). Your financial independence is one of the main roads to freedom.
Let someone know. 
No more secrets. Confide in a family member or friend so that they can help you with the process. If you feel threatened, let the authorities know you'll need help.
Seek professional help. 
Leaving and recovering from a toxic relationship will take effort and time. Reach out to support groups or counselors who are experienced in relationship problems. A therapist can be a great impartial resource to guide you and hold you accountable for creating and meeting your goals. An experienced family law attorney is also necessary. You will need to reflect on some of your own behavior in the marriage as well.
Stop talking to your partner. 
Toxic people are very cunning and can use emotional blackmail to lure you back in. When you make the decision to separate or end the marriage, terminate any form of communication with them unless you have children and need to co-parent. In this case, only communicate on concerns about the children. If you need to file a restraining order, so be it.
Indulge yourself with things you love doing. 
Being part of a toxic relationship is extremely detrimental to your self-esteem. It will take some time before you are ready to be part of another relationship. Don't rush this! Take time for yourself. To help yourself recover, make time for hobbies that you ignored during your marriage. Start working on a pet project or your own business. Take that trip you've always wanted to.
Also read: Domestic Violence In Kenya: The Home No Longer Safe For Kenyan Women?