Govt Explains Ebonyi Yellow Fever Status, Clarifies Number Of Deaths
The Ebonyi State government has confirmed the death of two people resulting from the recent yellow fever outbreak in the state.
The Ebonyi State government has confirmed the death of two people resulting from the recent yellow fever outbreak in the state.
The State Commissioner of Health, Dr Daniel Umezurike confirmed the incident while addressing newsmen on Monday in Abakaliki, urging people to however observe all preventive measures against the disease.
"Aedes vittiger (Mosquito)" by Arthur Chapman is licensed under CC BY-NC-SA 2.0
According to the News Agency of Nigeria (NAN), Umezurike equally adviced residents to disregard conflicting information on the number of causalities from the outbreak, stressing that authentic figure of deaths from the disease was two.
He said, "This briefing has become extremely necessary following headlines in almost all the newspapers and media houses that 16 people lost their lives from the disease's outbreak in the state.
"We have thoroughly investigated the report and found it malicious, misleading to the public as we visited the reported communities and interviewed members of the public.
"We found that none of the media houses actually went to the communities and that the villagers innocently attributed every death within this period to the disease which some reporters quoted without authentic source."
Setting The Record Straight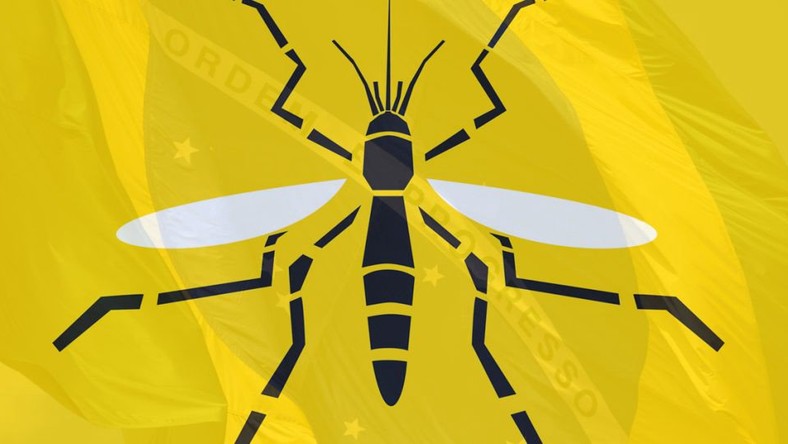 The commissioner clarified the rumour of an unknown illness in Ndinwigwe, Ndingele ward of Izzi Local Government Area, noting that the state's Rapid Response Team (RRT) was deployed to the area to investigate.
"They discovered that a 34 year-old farmer was on admission in the Millennium Development Goals (MDGs) health facility with symptoms of fever and yellowness of the eyes.
"The index case, was a seven year old child who took ill on July 2, 2019 with similar symptoms of fever and yellowness of the eyes but was referred to the General Hospital, Iboko.
"Four samples from the victims were collected and sent to the Public Health Laboratory, Lagos but due to non availability of reagents, they were sent to national reference laboratory, Abidjan, Cote D'Ivoire.
"Three of the samples tested positive to yellow fever on July 22, 2019 and the Nigerian Centre for Disease control (NCDC) consequently declared this an outbreak of yellow fever.
"The summary of the situation is that the state has recorded nine positive cases (three Polymerase Chain Reaction and six serology with two deaths," he said.
Patients Currently Admitted/Quarantined
He noted that six patients were presently on admission: three in Ndingele MDGs health facility, one in Iboko General Hospital and two in Alex Ekwueme Federal Teaching Hospital, Abakaliki.
He said "The disease which is transmitted by mosquitoes belonging to the eades and heamogogus genus, affects all ages with an incubation period of three to six days following bite from an infected mosquito.
"The disease symptoms which include jaundice fever, renal damage and haemorrhage, among others, can be prevented with use of mosquitoes barrier nursing, environmental cleanliness especially, removal of stagnant water," he said.
Dr Kenneth Ugbala, Secretary to Ebonyi Government (SSG) said the government through the health ministry, had creditably curtailed the outbreak through drastic interventions.
"We should open our minds and get information that we can defend as the commissioner for health and his team should be quoted for the authentic information," he said.
WHO's Fact Sheet About The Yellow Fever Virus
Yellow fever is a disease caused by a virus that is spread through mosquito bites. Symptoms take 3–6 days to develop and include fever, chills, headache, backache, and muscle aches. #Health #Wellness pic.twitter.com/WsXHkVQQ7t

— Emzor Pharmaceuticals (@emzornigeria) November 29, 2018
Yellow fever is an acute viral haemorrhagic disease transmitted by infected mosquitoes. The "yellow" in the name refers to the jaundice that affects some patients.
Symptoms of yellow fever include fever, headache, jaundice, muscle pain, nausea, vomiting and fatigue.
A small proportion of patients who contract the virus develop severe symptoms. Approximately half of those die within 7 to 10 days.
The virus is endemic in tropical areas of Africa and Central and South America.
Large epidemics of yellow fever occur when infected people introduce the virus into heavily populated areas with high mosquito density and where most people have little or no immunity, due to lack of vaccination. In these conditions, infected mosquitoes of the Aedes aegypti specie transmit the virus from person to person.
• Yellow fever is prevented by an extremely effective vaccine, which is safe and affordable. A single dose of yellow fever vaccine is sufficient to confer sustained immunity and life-long protection against yellow fever disease. A booster dose of the vaccine is not needed. The vaccine provides effective immunity within 10 days for 80-100% of people vaccinated, and within 30 days for more than 99% of people vaccinated.
Good supportive treatment in hospitals improves survival rates. There is currently no specific anti-viral drug for yellow fever.
Yellow fever is difficult to diagnose, especially during the early stages. A more severe case can be confused with severe malaria.
Read Also: Types of typhoid fever